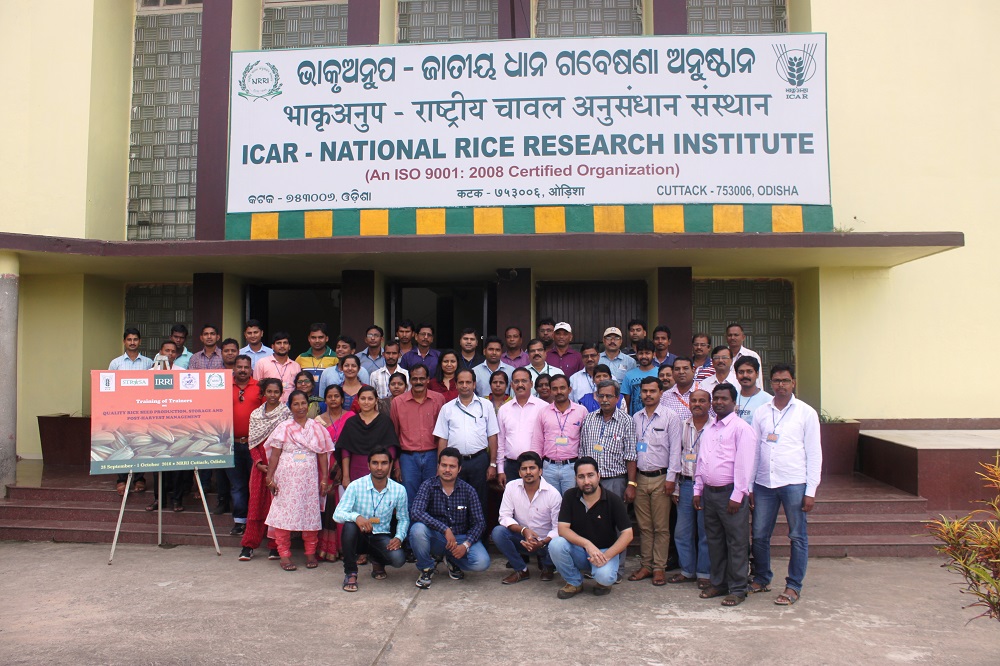 CUTTACK, India—A farmer-focused and market-driven rice seed production training for extension workers, non-governmental organizations representatives, and seed growers was held in Cuttack to strengthen the seed system and increase rice productivity in the state of Odisha.
The training, Quality Rice Seed Production, Storage and Post-Harvest Management, was conducted by the International Rice Research Institute (IRRI) in collaboration with the National Rice Research Institute (NRRI) of the Indian Council of Agricultural Research on 28 September to 01 October. It aims to address various problems affecting the supply of quality rice seed and improve the capacity of extension and development officers. The training covered seed production, maintenance breeding, integrated nutrient management, pest and disease management, and seed processing, packaging, and storage.
"To take the benefits of these technologies to more farming communities, we need a strong communication mechanism where all the stakeholders can be actively involved in exchanging ideas and experiences," said Dr. Himanshu Pathak, director of NRRI.
Dr. O.N. Singh, head of the Crop Improvement Division at NRRI, emphasized the importance of seed as a basic input for high and sustainable crop yield. "Seed is not a lone ingredient," he said. "But it is the most important component in the entire crop production."
Dr. Pathak also commended IRRI's role in establishing a genuine platform of public-private partnership that links research and extension organizations, policy institutions, public-private seed companies, NGOs, community-based organizations, self-help groups, and farmers.
"This platform will bring farmers and national and international organizations together to enhance the knowledge and generate awareness among the stakeholders on new and potential technologies," Pathak said. "In addition, this platform is farmer-focused and market-driven to ensure availability and accessibility of quality seed, a major input to increase the rice productivity as well as promote skill and entrepreneurship development among farmers."