With retirement looming after more than 22 years at the International Rice Research Institute (IRRI), this is my last issue of Rice Today as editor-in-chief. A staff member on the magazine since its debut in April 2002, I have served as a contributing writer, Asia editor, and finally, since January 2014, editor-in-chief.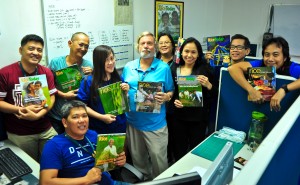 Over the last 14 years, I've worked with a great, continually evolving—and award-winning—team of writers, editors, designers, and photographers (photo). Together, we have witnessed the magazine's growth as it has become the institute's flagship publication. Certainly, being part of this magazine's team has been the pinnacle of my time at IRRI.
We have a fascinating set of stories and commentaries in this issue. Be sure to read the guest editorial in which Matthew Morell, IRRI's ninth director general, sets the stage for building further the institute's compelling mission and cutting-edge research that is paramount to alleviating poverty in the world.
IRRI is not the only rice research center experiencing major change in 2016. After more than 8 years leading the Africa Rice Center (AfricaRice) as deputy director general and director of research for development, Marco Wopereis will be taking the helm of The World Vegetable Center in Taiwan this coming April. Read about Marco's significant contributions to rice research and development in Africa in Hats off to a master juggler.
Staying in Africa, find out about a 'SMART' choice for Africa's inland-valley rice farmers. These inland valleys are increasingly being considered as the continent's future food basket. And in our map section, see how AfricaRice researchers are using satellite images to define flood-prone rice areas in West Africa. Doing so will help provide a more efficient and effective introduction of new flood-tolerant Sub1 varieties to the region's farmers.
Onward to Asia, January 2016 marks the 30th anniversary of IRRI's post-war involvement in a remarkable episode in agricultural history. I'm referring to the rebuilding of Cambodia after the horrendous genocide of the "Killing Fields" in that Southeast Asian country (1975-79). Glenn Denning told this amazing story during my latest IRRI Pioneer Interview. Glenn, who spent 18 years at IRRI, points out that what was achieved there over the last three decades is a compelling example about why genetic conservation and human capacity are so critical to agricultural development.
Moving on to another Southeast Asian nation, see how Filipino farmers are recovering from another kind of disaster that was Typhoon Haiyan. This powerful storm devastated the island of Leyte a little more than 2 years ago. Green Super Rice is giving many of them a fighting chance to rebuild their families' livelihoods.
Also in the Philippines, the Department of Agriculture's Heirloom Rice Project, which has strong support from IRRI, is making great strides in empowering the farmers who grow these tasty traditional rice varieties in the northern Cordilleras region. The article, Home among the heirlooms, expounds on the experiences of one farmer who has been able to maintain her ancestral farm as a profitable venture by growing the exotic purple-colored rice from the region called Balatinaw.
We feature a pearly-white heirloom rice, called Innawi, in our What's cooking recipe. It is the main ingredient of a delicious dish, Risotto carbonara, prepared by none other than Margarita 'Gaita' Forés, executive chef for a number of restaurants in the Philippines. She has been named Asia's Best Female Chef for 2016.
In addition to having celebrity chefs, we also have celebrity scientists. Read an entertaining interview with Michael Purugganan, IRRI collaborator and reluctant rock star scientist. He talks about making science and scientists approachable, his creative process, and the GMO debate. He also has some good advice for young researchers.
Sam Mohanty, IRRI's senior economist, examines whether or not the global rice market is headed for a repeat of the 2007-08 rice price crisis, which today seems like a distant memory. Market players will need to keep cool to avoid duplicating that turbulent time.
And finally, Michael Jackson, former head of IRRI's Genetic Resources Center, introduces a new term: "Genebank tourism." He sees this interesting concept as being an important tool to spread the good word about the strategic importance of genetic conservation.
I now pass on the reins of Rice Today to the capable hands of Lanie Reyes (to my left in photo), long-time contributor to the magazine, most recently as managing editor. She has proven to be truly enthusiastic about accurately reporting on the significance of this staple that is so important to nearly half the world's population.