Jollof rice is a popular dish generally served on special occasions in many West African countries, especially in Ghana and Nigeria. It is a favorite meal of children in particular, and is often the main dish on the menu of children's parties.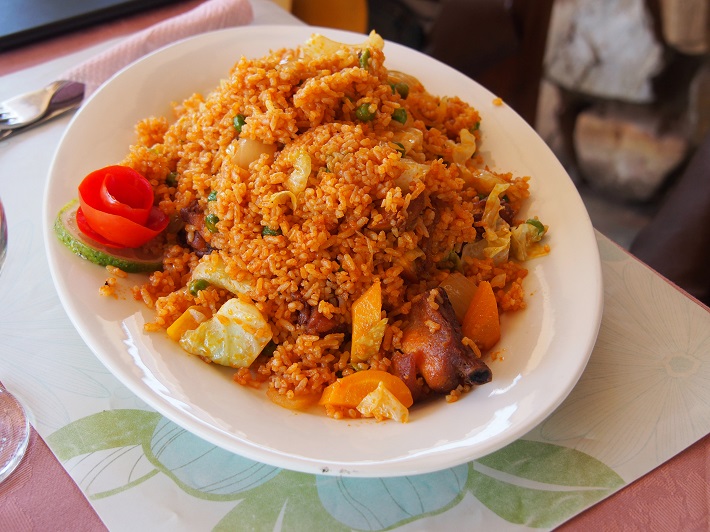 Jollof rice has several variations, but the common ingredients are rice, tomatoes, and meat. One can use chicken, beef, ham, sausage, shrimp, fish, or pork and vegetables such as beans, carrots, mushrooms, and bell peppers.
Jollof rice dish, as prepared in Ghana, has lots of vegetables as well as meat, according to Dr. John Manful, grain quality scientist at Africa Rice Center, making it a complete meal in itself.
The dish requires about 15 minutes of preparation and an hour and half of cooking time.
Ingredients
1 kg boneless beef, cut into small pieces
1 kg nonsticky rice
5 cups of water or stock
200 grams tomato paste
10 green beans, cut into pieces 5 cm long
6 large fresh tomatoes, chopped or blended
4 carrots, peeled and chopped
2 onions, chopped
1 large bell pepper, cut into pieces
6 tablespoons cooking oil
1 tablespoon garlic-chili paste
Salt to taste
Spices (optional)
Directions
Heat the oil in a large pot.
Add the beef and fry until brown on all sides.
Remove the beef and set aside.
Add the onions to the pot and sauté for 2 minutes.
Add the garlic-chili paste and sauté for 1 to 2 minutes.
Add the tomato paste and fresh tomatoes.
Cook for 5 to 7 minutes.
Pour water or stock and add the fried beef, rice, and spices (optional).
Add salt to taste.
Cook for 10 minutes on low heat.
Add vegetables and cook for another 10 minutes.
Stir from time to time until rice is cooked.
Serve with cooked vegetables, grilled chicken, fried fish, tomato, or pepper sauce.
This serves 4–5 people.
Bon appétit!
Watch Ms. Manful demonstrate how to prepare this delicious dish in a 7-minute video on YouTube at  or listen to the podcast.
Mrs. Manful is a Ghanaian national. She lives with her family in Tema, a town located 25 km east of the national capital Accra, and works as chief revenue officer under the Ghana Revenue Authority. She likes cooking traditional dishes from Ghana.