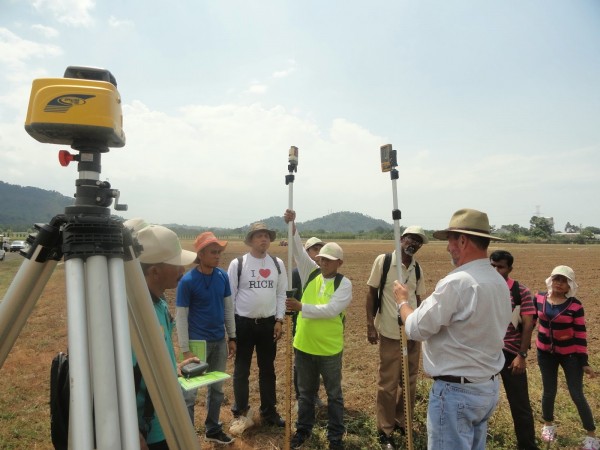 Twelve participants (10 male, 2 female) from India, Indonesia, Sri Lanka and the Philippines underwent a rigorous hands-on training course on laser land leveling at the International Rice Research Institute (IRRI) headquarters.
Laser land leveling is a climate-smart agriculture practice helps save scarce resources while increasing yields and farmers' incomes. "A number of benefits can be obtained from a laser level field," says Joseph Rickman, IRRI senior scientist with specialization in mechanization and production systems. "These include efficient water use, better weed and nutrient management, increase in farm area due to consolidation of smaller fields, uniform crop maturity, and increase in grain and head rice yields."
Ms. Lin Lin Ho from Trimble, the company that introduced commercial laser leveling technology in 1996, says, "Around 500,000 hectares of land have been made climate friendly through the use of laser leveling system." Ralph Go of Go Traktora, a local distributor of Trimble equipment gave a presentation on local distribution and after sales service of laser leveling system.
The laser leveling module, second offering of the course, covered the following topics: 1) understanding the principles and benefits of laser leveling; 2) conducting topographic surveys; 3) making field plan for efficient laser leveling; 4) conduction of laser leveling in an IRRI field; and 5) learning the economics of laser leveling technology.
"This training unpacked the ease and practicality of using the laser leveler technology," says Roger Barroga, a participant from the Philippine Rice Research Institute. "By proper land leveling, we can better manage water, weeds, and fertilizer, and increase the yield of our rice crop,"
The Postharvest Unit of IRRI's Crop and Environmental Sciences Division in collaboration with the Training Center conducted the course that also included a module on tractor operation and maintenance. The module on tractor operation covered the principles of operation and maintenance of a 4W tractor and underwent actual driving lessons. The course was held on 18-21 May.
Learn more about IRRI (www.irri.org) or follow us on the social media and networks.