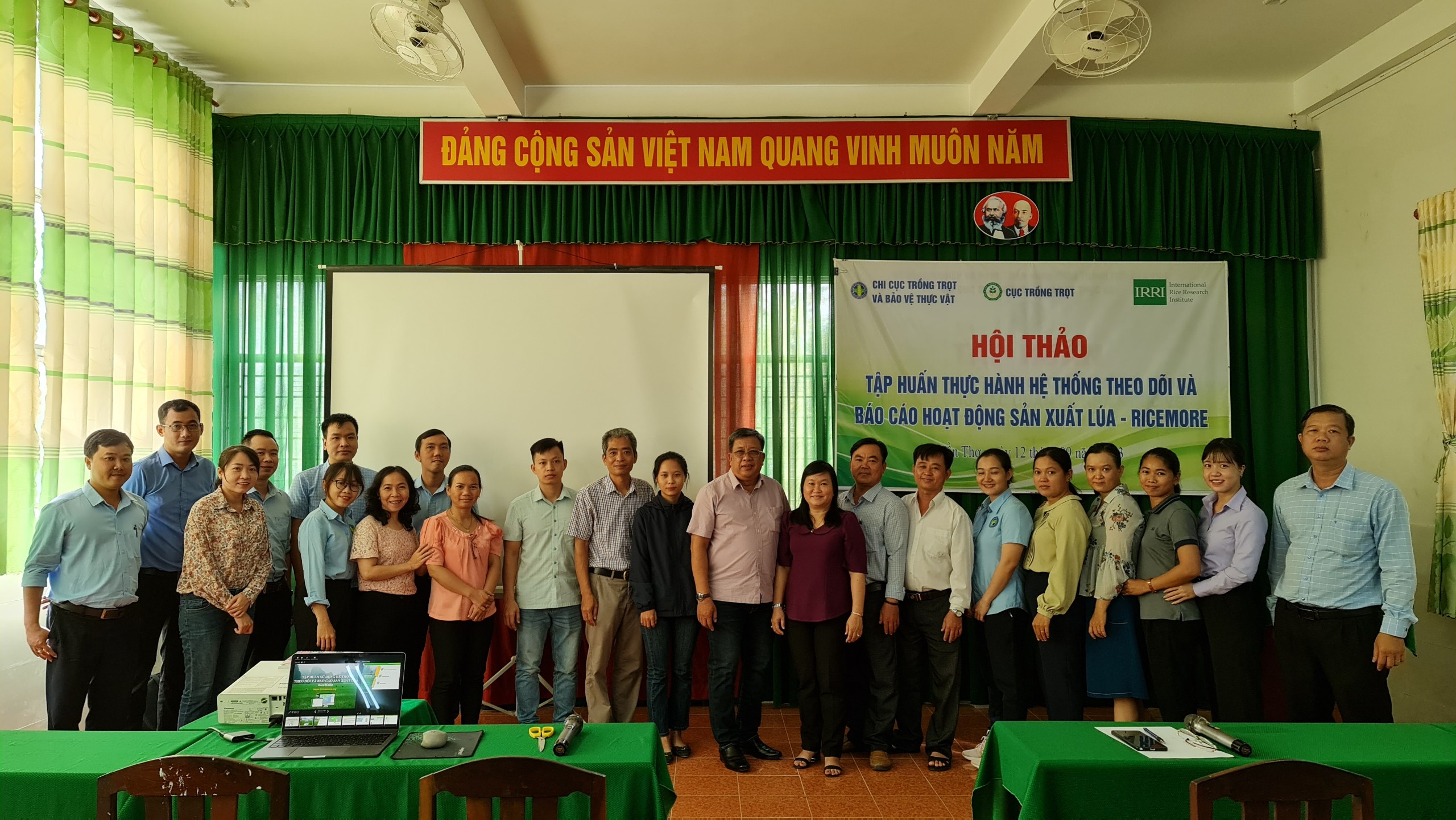 The Mekong River Delta is undergoing a remarkable digital transformation in the region's rice production management with the Rice production monitoring and reporting system (RiceMoRe). Developed by the International Rice Research Institute (IRRI) in collaboration with the Department of Crop Production (DCP), and the Center for Agricultural Digital Transformation and Statistics (DTS) of the Ministry of Agriculture and Rural Development's (MARD), RiceMoRe provides a platform for standardizing and recording time-series rice production activity and the adoption of low-emission practices.
"RiceMoRe serves as a valuable tool in the decision-making process by providing accurate and up-to-date information to optimize rice production for both domestic consumption and export purposes," said DCP Deputy Director General Le Thanh Tung. 
IRRI, DCP, and DTS began conducting training on its usage in Can Tho City and the provinces of  Vinh Long and Kien Giang from 12 to 15 September 2023 to support Vietnam in crop production management and planning as well as greenhouse gas (GHG) monitoring, reporting and verification (MRV).
Composed of representatives from DCP district and provincial offices, the participants welcomed the digital tool for enhanced agricultural management and improved yields. Local officials from Can Tho City, Vinh Long, and Kien Giang also expressed their enthusiasm and interest in RiceMoRe. 
The system's intuitive interface and similarities with current reporting requirements made it easy for the participants to grasp its functionalities. However, it is more advanced than the current reporting mechanism as it specifies data by season, enabling progress tracking and projections,
The implementation of RiceMoRe brings several benefits that could empower agricultural officials at various levels to monitor rice production progress with precision, timeliness, and geospatial accuracy.
"The system's comprehensive database plays a crucial role in supporting the implementation of rice sector development plans, the green growth strategy, as well as climate change mitigation and adaptation targets," Mr. Tung said. 
By utilizing the system's data, officials can efficiently forecast production trends, offer guidance to farmers to enhance farming practices, reduce costs, and ultimately increase income for rice farmers, he added.
"This digital system brings great benefit as it enables establishing a rice production database that will inform agriculture management at different levels," said Nguyen Ngoc Thanh, deputy director of the DCP Unit in Vinh Long. "We are keen on implementing this system in the future as it is in line with the digital transformation of the sector."
With the official engagement of DCP and DTS, the development of the RiceMoRe system is in line with MARD's larger transformative program to deploy the latest digital solutions for sustainable, environmentally friendly, and low-carbon development across Vietnam's agricultural systems and their value chains.