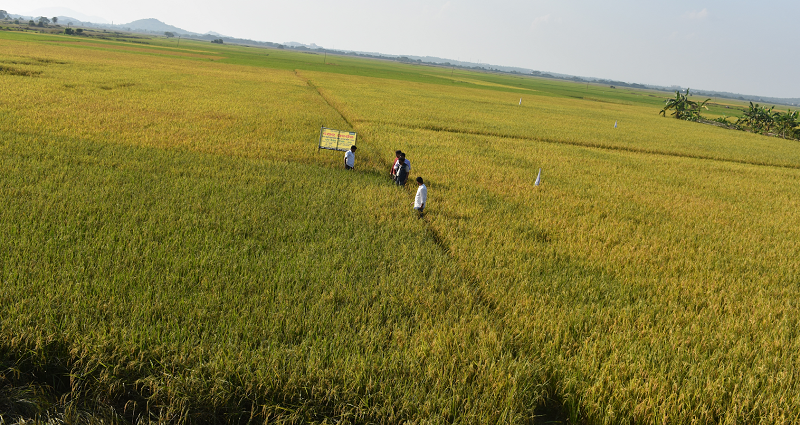 Odisha, India—Demonstration plots have been used in introducing new varieties that are appropriate and beneficial to the growing conditions of the region to farmers. However, conventional demonstration set-ups on larger plot areas do not effectively help farmers compare the advantages of new varieties over their own. In conventional demonstration plots, farmers only see the outcome but not the actual gain. Also, these demonstrations setups are not linked with the seed systems so the new varieties being promoted are either not known to seed dealers or not available from them. Under the current scenario, it takes many years before seed dealers become aware of new rice varieties.
To help improve the effectiveness of the demonstration plot platform in promoting and scaling up stress-tolerant rice varieties (STRVs), the International Rice Research Institute (IRRI) started an innovative program that engages various stakeholders.
"IRRI uses demonstration platforms to create awareness not only among the farmers and extension workers but also the seed dealers who act as connecting agents between seed users and suppliers," said Manzoor Dar, a development specialist in agricultural research at IRRI-India.  "Participating seed dealers generate feedback and address to the seed demand after the demonstrations. This ensures sustainability in the availability of new seeds in the system."
Another integrated part of this approach is engaging the seed dealers in the awareness and diffusion process. "The strategy focuses encouraging the seed dealers to promote STRVS using demonstration plots to their potential customers, so farmers, who are also regular customers could directly provide the feedback about the featured varieties which is reflected in their seed demand," Dr. Dar said.  "We found that many seed dealers conduct their own demonstration plots to promote STRVS and estimate the potential demand for these in their locality."
Creating awareness through demonstrations for seed dealers, agro-vets, and distributors is found to be very promising in improving the adoption of STRVs and replacing old varieties.  Because farmers often rely on input and seed dealers for information and knowledge, they should be fully informed about characteristics of the new varieties as well as the benefits.
"Seed dealers work as the key mediators in spreading information and promoting STRVs among farmers because the new business prospects when demand is created act as an incentive for them," Dr. Dar explained. "The feedback and the demand generated through dealer's network also gives seed producing agencies like state seed cooperation the opportunity to roll out production plan and deliver the seeds in a timely manner.
"IRRI promotes the idea where these demonstration plots are used as "Seed Production Plots" linked with formal seed system network that ensures the local seed availability in remote areas," he added.
In 2016, IRRI showcased STRVs through seed dealers on more than 15,000 demonstration plots and on 2,186 hectares of demonstration plots with the participation of dealers and support from partner local non-government organizations. In the 2017 kharif season, IRRI engaged around 500 dealers in demonstrating drought- and flood-tolerant varieties to create awareness and seed demand in the stress-prone areas of Odisha.