Tag Archives: aerobic rice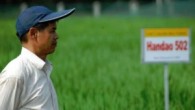 Ask someone to think of a rice field and odds are they'll imagine a flooded paddy. Growing rice in puddled fields works well as long as there's enough water to do it. But, increasingly, that's not always the case. As populations increase and the industrial and urban sectors compete with agriculture for water, "aerobic rice" offers a water-saving alternative to...
Rice is, arguably, the world's most important food crop. In spite of this prominence, the private sector for many years concentrated only on developing rice crop protection products such as herbicides and insecticides. There was little investment in improving rice varieties, and low participation in the crop seed  business. In the mid-1990s, however, several agricultural...