Over the last five decades, this selection from IRRI's historical timeline has many Indian connections tied to people and events.
1965
The Indian Council of Agricultural Research (ICAR) established the All India Coordinated Rice Improvement Project (AICRIP) in Hyderabad. Indian breeder S.V.S. Shastry and Wayne Freeman, IRRI's representative in India, were designated as the first joint coordinators.
Benjamin Pearey Pal became the first director general of ICAR. He later served as an early member of IRRI's board of trustees (1967-70).
1967
Indian plant breeder Dilbagh S. Athwal joined IRRI's management team and ultimately served as the Institute's first deputy director general.
Andhra Pradesh farmer Nekkanti Subba Rao tested IR8 on his farm and supervised its first large-scale demonstration and multiplication.
The India-IRRI partnership intensified when scientists from AICRIP and the Central Rice Research Institute in Cuttack began to visit IRRI headquarters in the Philippines.
1968
After threshing his first full harvest of IR8 resulting in a bumper rice crop, Indian farmer K.N. Ganesan saw that this variety, which ushered in the Green Revolution, would be changing his family's future. He was so impressed with the variety's performance that he named his second son, born that same day, IR8–IR-ettu (Irettu) in Tamil.
1974
The first formal memorandum of understanding for cooperation in research and training was signed by the directors general ofICAR and IRRI.
In 1974, Dr. S.V.S. Shastry (who served on the IRRI board of trustees, 1970-73) won the Borlaug Award for distinguished service of an Indian citizen to agriculture.
1981
The seminal book, Principles and practices of rice production, by IRRI agronomist and principal scientist S.K. De Datta, was published by John Wiley and Sons, Inc. It was the model for many future IRRI books picked up by reputable science publishers. In 1986, Dr.De Datta received the first International Soil Science Award from the Soil Science Society of America.
1982
M.S. Swaminathan became IRRI's fourth director general. He later won numerous honors and awards. In 1987, Swaminathan Hall at IRRI headquarters was dedicated in his honor. In 1991, he won the John and Alice Tyler Prize for Environmental Achievement and the Honda Prize. In 1999, he was named among the 20 most influential Asians of the 20th century by Time magazine.
1982
Amir U. Khan, IRRI agricultural engineer, received the International Inventor's Award for Industry from Sweden's King Carl XVI Gustaf during ceremonies held in Stockholm. The award recognized his contributions to the farm machinery industry in developing countries such as the axial flow thresher.
1996
G.S. Khush, IRRI principal plant breeder, won the World Food Prize, with H.M. Beachell, former IRRI plant breeder. He has also won the Rank Prize for Nutrition in London (1998) and the Wolf Prize in Agriculture (2000). In 2002, in recognition of his 29 years as head of IRRI's Plant Breeding, Genetics, and Biotechnology Division and leader of various research programs, the Collaborators' Center building was renamed Gurdev S. Khush Hall. The week-long
3rd International Hybrid Rice Symposium was held in Hyderabad.
2002
ICAR hosted the first steering committee meeting of the Consortium for Unfavorable Rice Environments (CURE) in New Delhi, India.
Sant Virmani, IRRI plant breeder, was elected as a fellow of the American Association for the Advancement of Science and received the International Service in Crop Science Award from the Crop Science Society of America. In 2005, he received India's Pravasi Bharatiya Samman Award and Japan's International Koshihikari Rice Prize.
J.K. Ladha, IRRI soil nutritionist, was named a fellow of the American Society of Agronomy. Other recognition he has received includes: fellow of the Soil Science Society of America (2004), fellow of the American Association for the Advancement of Science (2009), and the International Service in Agronomy Award from the American Society of Agronomy (2011).
2003
In New Delhi, the achievements of agronomist Virendra Pal Singh were recognized as he departed IRRI after serving the Institute for 30 years where he worked to improve the rice-farming systems in unfavorable environments.
IRRI agronomist Vethaiya Balasubramanian received the International Fertilizer Industry Association International Award.
2006
His Excellency A.P.J. Abdul Kalam, president of the Republic of India, and party visited IRRI Headquarters. He interacted with staff scientists, seeking solutions to problems faced by Indian farmers.

The 2nd International Rice Congress in New Delhi attracted nearly 1,400 rice researchers, traders, millers, farmers, and agriculture ministers, including 400 delegates from 46 countries.
2007
Darshan Brar, head of IRRI's Plant Breeding, Genetics, and Biotechnology Division, won the Koshihikari International Rice Prize, recognizing his rice research body of work. He also received the CGIAR Outstanding Scientist Award, honoring his original work that furthered CGIAR goals.
2008
More than 40 years after his work with IR8, Mr. Subba Rao distributed seed from his harvest of flood-tolerant Swarna-Sub1 to other farmers who multiplied it, ultimately leading to the significant spread of the variety in the region.
In New Delhi. the South Asian wing of the project, Stress-tolerant rice for Africa and South Asia (STRASA), was inaugurated.
2009
An international agreement was signed between ICAR and IRRI to support and facilitate India's rice research, helping the nation's rice production at a time of unprecedented price volatility and subsequent need for revitalization of food production.
The Cereal Systems Initiative for South Asia (CSISA) was established to promote durable change at scale in the region's cereal-based cropping systems. CSISA India's activities focus on areas of the eastern Indo-Gangetic Plains dominated by small farm sizes, low incomes and comparatively low levels of agricultural mechanization, irrigation, and productivity.
2011
The Sardar Vallabhbhai Patel University of Agriculture and Technology in Meerut honored IRRI Director General Robert Zeigler by naming its new soil- and plant-testing laboratory after him. He was also conferred with the honorary degree of doctor of science by the Govind Ballabh Pant University of Agriculture and Technology in Pantnagar. In 2014 (photo), he was conferred with an honorary degree of doctor of science during the 35th convocation ceremony of Tamil Nadu Agricultural University in Coimbatore.
Sam Mohanty, IRRI economist and Social Sciences Division head, won the prestigious Glory of India Award in New Delhi.
2012
The project, Improved Rice-based Rainfed Agricultural Systems in Bihar, was launched in India by the Catholic Relief Services and IRRI. Supported by the Bill & Melinda Gates Foundation, it targets drought- and flood-prone environments.
Dr. Zeigler inaugurated new and added office space for the IRRI India Office in New Delhi located at Rajendra Place.
The IRRI South Asia Rice Breeding Hub at the International Crops Research Institute for the Semi-Arid Tropics (ICRISAT) in Hyderabad, India, was inaugurated by Dr. Zeigler and Dr. William Dar, director general of ICRISAT.
The 6th International Hybrid Rice Symposium was held in Hyderabad. Around 450 delegates from 32 countries.
Ashish Bahuguna, secretary of the Ministry of Agriculture and Cooperation, Government of India, signed a memorandum of agreement with IRRI to further strengthen IRRI's collaboration with India.
The global rice research agenda was the focus of a plenary talk given by Dr. Zeigler during the Third International Agronomy Congress held at the Indian Agricultural Research Institute in New Delhi.
In his Coromandel lecture, Cutting-Edge Rice Science for Food Security, Economic Growth, and Environmental Protection in India and Around the World, Dr. Zeigler noted that IRRI and India have been working together since the mid-1960s to develop and deliver ways to help Indian rice farmers improve their rice productivity.
2013
Coromandel International Limited signed a memorandum of understanding with IRRI for cooperation in promoting and disseminating improved rice research technologies in India.
As part of the 2013-16 IRRI-India Work Plan, the Institute and the Tamil Nadu Agricultural University signed a memorandum of understanding to promote research, training, and exchange of information and technology on rice and its farming systems and value chains.
Bayer CropScience, IRRI, and ICAR sponsored an inaugural 2-day Rice Future Forum in New Delhi. Bas Bouman, director of Global Rice Science Partnership, was one of the presenters.
Senior officials from India's Ministry of Agriculture visited IRRI for a 2-day series of awareness and consultation meetings, particularly to discuss STRASA.
2015
In its Golden Jubilee year, the Directorate of Rice Research in Hyderabad is given national institute status under the ICAR umbrella. It is now the Indian Institute of Rice Research. It has been IRRI's privilege to have worked, trained, and learned together with Indian scientists over 5 decades to help improve the lot of rice farmers and to help feed the world's hungry.
2017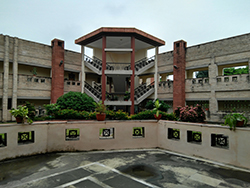 In August 2017, the Government of India approved the establishment of the IRRI South Asia Regional Center (ISARC) at Varanasi in the State of Uttar Pradesh. ISARC will serve as a prime research and training facility in the region.