Patti Heong, spouse of Dr. K.L. Heong, a senior scientist at IRRI responsible for research on arthropod ecology and integrated pest management, often makes this simple but delicious soup for lunch or a snack.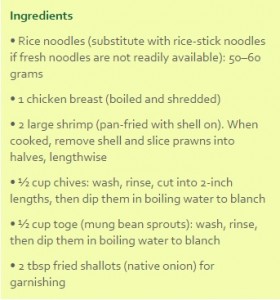 Patti, who has been at IRRI since the Heong family arrived in 1989, was previously an executive secretary to a director at Tractors Malaysia. "Cooking has always been my hobby," she says. "I like to experiment with different recipes and tastes. With this dish, I am integrating Cantonese and Malaysian tastes."
"Ipoh Kway Teow Soup," she adds, "also known in Cantonese as Yi Poh Sar Hor Fun, can be found in most food courts and hawkers' haunts throughout major towns in Malaysia.
It is served in clear soup and is like a comfort food—very light. This dish is named after Ipoh, the capital city of the state of Perak in my home country of Malaysia, since it is believed that the best kway teow (rice noodles) originated from that area."
Cooking directions
Boil the rice noodles or rice-stick noodles until al dente (i.e., firm but not soft like in pasta; not overcooked). Drain. Put the noodles in a bowl. Top with the cooked chicken, shrimp, chives, and toge. Ladle piping-hot chicken soup (or broth) over the noodles. Garnish with fried shallots. Accompany dish with freshly cut chilies mixed with soya sauce. The broth can be made with chicken cubes or a chicken soup pack.