Biryani is a rice-based meal made with spices, rice (usually basmati), and meat, fish, eggs, or vegetables. The name is derived from the Persian word beryā, which means fried or roasted.
The dish originated from Iran (Persia) and was brought to the Indian subcontinent by Iranian travelers and merchants. Biryani is popular not only in South Asia but also in Arabia and within various South Asian communities in Western countries. It has many local variants.
The recipe presented here by Sam Mohanty, head of the Social Sciences Division at the International Rice Research Institute (IRRI), is a somewhat simplified Indian version of what he says can be a very complex confection.
Dr. Mohanty, who joined IRRI in 2008, is a widely published and award-winning economist with a knack for cooking for his family when he is not searching for the direction of the global rice market (see Rice Facts).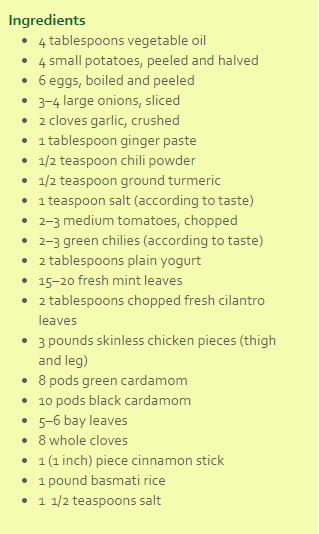 Directions
Clean and wash the chicken. Marinate the chicken with yogurt, salt, turmeric, and chili powder for 2 hours.
In a pot, add vegetable oil and fry the onions until they are soft and golden. Add garlic and ginger paste and the whole spices. Fry and continuously stir for 5 minutes. Add green chilies and tomatoes and fry for another 5 minutes. Cover and cook over low heat, stirring occasionally until the tomatoes are cooked to a pulp. It may be necessary to add a little hot water if the mixture becomes too dry and starts to stick to the pot.
When the mixture is thick and smooth, add the marinated chicken pieces and potatoes and stir well to coat them with the spice mixture. Cover and cook over very low heat until the chicken is tender—approximately 35 to 45 minutes. There should be only a little very thick gravy left when the chicken is finished cooking. If necessary, cook uncovered for a few minutes to reduce the amount of gravy.
Wash rice well and soak it for 30 minutes.
Put plenty of water in another pot, add salt, and boil the water. Once the water starts to boil, drain the soaked rice and put it in the boiling water. Boil it again at a high temperature for 5–7 minutes.
"Par cook" the rice (meaning 3/4 cooked, while the rest will just get cooked later). Do not boil the rice too much.
Put cilantro leaves on top of the cooked chicken, stir them in, then add mint on top. Drain and add the "par-cooked" rice on top of this mixture.
Cover the pot tightly, turn heat to very low, and steam for 20 minutes. Do not lift the lid or stir while cooking.
Spoon the biryani onto a serving dish and garnish with halved boiled eggs.