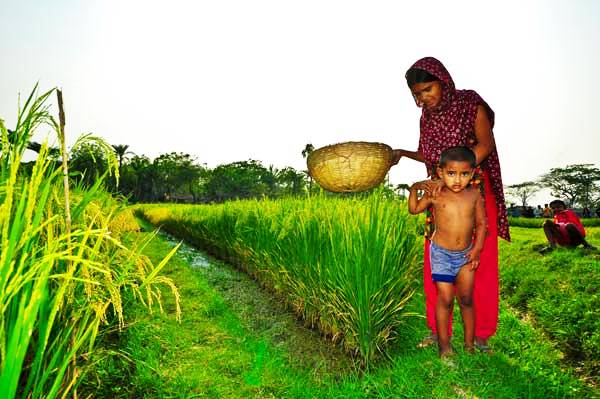 MANILA, Philippines—Rice production in Asia faces a myriad of challenges including meeting the demands of an increasing population, dealing with climate change, and diminishing land, labor, and water resources. These roadblocks to assuring the continent's food-secure future have the attention of scientists at the International Rice Research Institute (IRRI).
For one, Arvind Kumar, a senior IRRI scientist and expert in trait development for drought-tolerant, aerobic, and dry direct-seeded rice, is looking at technology options to alleviate the problems that confront Asian farmers as they strive to produce more food. These options are thoroughly discussed in Developing and disseminating water-saving rice technologies in Asia, a joint publication of the  Asian Development Bank (ADB) and IRRI supported by the Development and dissemination of climate-resilient rice varieties for water-short areas of South Asia and Southeast Asia project.
The ADB Brief, by Kumar and Michiko Katagami, ADB's principal natural resources and agriculture specialist, is a consolidation of 17 technical papers from South Asian countries, focuses on water- and labor-saving technologies under aerobic, anaerobic, and alternate wetting and drying cultivation systems. It also features weed control measures, pest management, and suitable rice cropping systems for different countries.
"The project paved the way to discovering suitable varieties, distributing these seeds to farmers, and training farmers in the appropriate use of the technologies," says Kumar. However, he notes that these technologies, while available, are not being disseminated.
Qingfeng Zhang, director of ADB's Environment, Natural Resources and Agriculture Division, agrees that there is a need to elaborate on adaptation research and how farmers adopt these technologies.
"Research should drill into the socioeconomic impact of technology on farmers," Zhang said. "ADB provided a Phase II to this project to study more the large-scale dissemination of these technologies for water-short areas of Asia and Southeast Asia."
Other topics discussed during the launching of the ADB Brief included the importance of scaling up (policy) and scaling out (to farmers) the use of climate-smart rice varieties, optimizing institutional linkages particularly between research entities, and engaging private institutions in the dissemination of these rice varieties to more farmers.
The publication was launched at the Food Security Forum organized by ADB on 22-24 June. The forum brought together key stakeholders to exchange and disseminate knowledge, showcased innovative production technologies, and provided an opportunity for networking and building partnerships. Overall, the forum identified key interventions and partnership strategies for a collective initiative to eradicate hunger, achieve food security, improve diets, and promote sustainable agriculture by 2030.
Link to ADB Brief No. 60: Developing and disseminating water-saving rice technologies in Asia