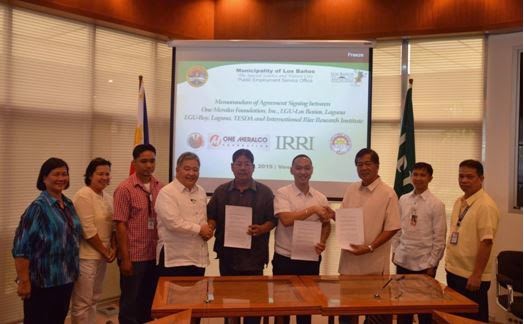 LOS BAÑOS, PHILIPPINES – One Meralco Foundation (OMF) signed a Memorandum of Agreement (MOA) with the Public Employment Service Office (PESO) to provide funds for skills development training of unemployed and low-income residents of Bay and Los Baños in Laguna. The training, which runs from April 2015 through October 2016, includes automotive servicing, electrical installation maintenance, refrigerator and airconditioning technology, and electronics. The Technical Education and Skills Development Authority (TESDA) will conduct the training activities while PESO will provide livelihood programs.
"This is the start of the lasting relationship," said OMF President and Chief Jeffrey Tarayao. "Our mission is to make this partnership successful so many more people from Laguna can benefit from a program like this. This is something OMF is committed to doing and supporting." OMF, the corporate social responsibility arm of power provider Meralco, will also assist PESO in the preparation and dissemination of project campaign materials.
As part of its commitment to create positive impact in its host communities, IRRI's Philippine Desk of the Partnerships Office will work with PESO managers to monitor the training as well as provide additional training on writing application letters and resumes, and preparing for job interviews.
The MOA was signed by Mr. Tarayao on 30 April at the IRRI Headquarters. Bruce Tolentino, deputy director general for communication and partnerships, signed as witness to the partnerships of OMF with IRRI's host communities of Bay and Los Baños. IRRI facilitated the OMF grant to the host communities.
Learn more about IRRI (www.irri.org) or follow us on the social media and networks.