Getting their feet wet in rice paddies, three Asia Rice Foundation USA (ARFUSA) grant winners and other scholars learn how rice is connected to the international community.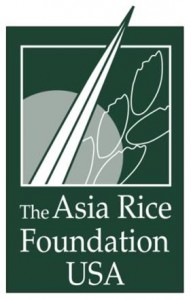 "The hands-on experience of producing rice has certainly been relevant to my research," expounded Jenna Reeger, currently pursuing a PhD in plant biology at Penn State University. "Understanding how farmers prepare their fields and plant rice has certainly been enlightening thanks to traveling around the Philippines to see different areas where rice is grown."
This assessment of the International Rice Research Institute's (IRRI's) 3-week short course on Rice research to production (RR2P) was the consensus of three graduate students attending universities in the United States and who also won recent Travel and Study Awards from ARFUSA. A unique situation in which three ARFUSA scholars participated at the same time in the RR2P, Ms. Reeger was joined in the ninth annual edition of the course, held at IRRI headquarters in the Philippines, by fellow 2015 winner Hussain Sharifi, a PhD student in the Agro-Ecosystems Laboratory at the University of California at Davis, and 2014 winner Ana Bossa Castro, a PhD student in plant pathology at Colorado State University.
Bringing a unique community of students together
"The RR2P course is becoming quite popular with ARFUSA scholars and other young scientists from around the world who are looking to advance their careers," said Jan Leach, distinguished professor at Colorado State University and one of the training coordinators for the course.
"The students touch on everything from learning how to prepare the fields and plant rice using a water buffalo as well as modern technology all the way to using molecular breeding tools," added Dr. Leach. "It is a huge opportunity for them to learn about rice production and the research that goes on at IRRI and around the world."
The course also brings together a special community of students. "Past participants often keep their interaction going," explained Dr. Leach. "So, they will have international colleagues in the rice research community for the rest of their careers. This is hugely important for their success. They also gain experience in communication, for example, how to present their research and how to make it understandable to lay people. They are also learning cultural aspects, not only the distinctive ways of rice production in the Philippines and other parts of the world, but also through interacting with scientists from different countries and learning to respect their culture."
Something "cool" about IRRI
Ms. Reeger, who is also a Penn State University Graduate Fellow, a Graham Endowed Fellow, and Roche/ARCS Foundation Scholar, grew up on a small vegetable farm in western Pennsylvania. "I learned about plants from a very young age," she explained. "Then I found I could study science involving plants in college. I became interested in agriculture, which I believe is a major concern that scientists should be focusing on."
Her main goal is to develop drought-tolerant rainfed rice varieties that will provide more reliable yields under drought stress and promote food security and financial stability for rainfed rice growers. "I find IRRI to be a very unique place with so many different people working on all the aspects of rice," she said. "I think there is something very special and 'cool' about this—a lot of people working together to achieve the same goal."
Regarding the RR2P course, she relayed that the "high point" was the 3-day visit to the Banaue rice terraces in Ifugao Province of northern Luzon. "The ancient rice terraces are very beautiful," she said, "and it was very interesting to talk with the people who live there and observe how they grow rice on the terraces with 2,000 years of experience."
Also during her time at IRRI, she was able to interact with scientists working on breeding for drought tolerance and the physiology of drought. "I met multiple times with Dr. Amelia Henry, IRRI's drought physiologist, to discuss her work and to make plans for my return trip to IRRI—for which I am using my ARFUSA grant to set up a field trial," she pointed out." The budding plant biologist is now back at Penn State taking classes in her second year of graduate school, where she is also president-elect of the Graduate Women in Science chapter at the university.
First in the family to obtain a college degree
Mr. Sharifi was born into a small-farm family in remote Bamyan Province of Afghanistan. He was the first in his family to obtain a college degree when he completed his BS in plant protection at Kabul University.
In his U.C. Davis research under the direction of Bruce Lindquist, a former IRRI scientist based in Laos, his main research focus is to improve water-use efficiency in current conservation agriculture rice systems. For example, in part of his research, Mr. Sharifi aims to develop a predictive tool in order to support improvements in rice breeding, production, quality, and management. "To this end," he said, "I am evaluating the effects of environmental factors—such as temperature, photoperiod sensitivity, and field management practices, including the alternate wetting-drying system—on rice growth and development.
"IRRI is certainly a premiere institute for rice science," he added. "I find the work being done here fascinating. The RR2P course provided me with a great opportunity to be exposed to many different topics and issues. More than that, a high point for me was getting to know and become friends with all the course participants from 12 countries. I'm sure I will come across many of these people again as colleagues at some point in my career."
Mr. Sharifi has a main interest in remote sensing. "I think we should use this technology to develop appropriate tools for extending available information to where we need to," he said. "My time here at IRRI has enabled me to interact with the GIS group and the crop modeling group (Oryza2000) with Tao Li and Ando Radanielson, Adam Sparks, and Steve Klassen. It is great that the scientists here are so willing to take the time to talk to a young scientist like me." He has returned to U.C. Davis to finish his PhD research in early 2016. "I plan to pursue a career in international crop research with a focus on rice cropping systems," he concluded.
She came back!
Attending the RR2P course brought Ms. Ana Bossa Castro back to IRRI a second time. The Bogotá, Colombia, native was here last year to receive training and to consult with Hei Leung, principal scientist in IRRI's Genetics and Biotechnology Division and a collaborator in her research on finding novel resistance sources to defeat bacterial diseases of rice. "I've worked as a research assistant at CIAT [International Center for Tropical Agriculture in Cali, Colombia] for a few years and I had been very interested in coming to IRRI and learning about the research done here," she said. "When I got here for the first time last year, I was impressed by the fields and the labs, the genebank, and the genotyping facility. This second time, I got the chance to know more about the cutting-edge research done in different topics and meet several scientists. Through the course, I had hands-on experience in field practices and interacted with farmers. The trip to Banaue was an enriching opportunity as I talked with local farmers and heard about their traditional practices and their limitations in rice production. The RR2P course allowed me to meet participants from 12 different countries, know about their cultures, and exchange research experiences with them."
Originally, Ms. Bossa Castro was interested in molecular biology to perhaps become involved in human cancer research; however, after taking a college class in plant pathology, she became interested in food security and feeding growing populations. "I changed my mind on what direction to take, but still could be involved with molecular biology—and maybe it is just as important as cancer research by benefiting even more people."
During her work at CIAT, she was a visiting scholar in the laboratory of Dr. Stephen Dellaporta at Yale University on two occasions. "There, I acquired and applied molecular techniques to make advances in my project," she said. "This gave me an opportunity to prove my creativity and initiative to cope with new research experiences."
Ms. Bossa Castro believes she is on track with her research to find new resistance genes for important bacterial pathogens. "With continued collaboration with IRRI and CIAT, my main goal is to contribute to the reduction of losses caused by these pathogens in rice crops, which will help decrease poverty and malnutrition in developing countries. I plan to become a principal investigator in molecular plant pathology to achieve this goal."
Unique RR2P course in its ninth year
Including these three ARFUSA scholars, the ninth annual RR2P course held during 10-28 August 2015 attracted 26 participants hailing from 12 countries (Afghanistan, Cambodia, Colombia, Egypt, India, Indonesia, Kenya, Nepal, Peru, the Philippines, Sierra Leone, and the U.S.). In addition to Dr. Leach, the course was coordinated by IRRI staff members Noel Magor, head of the Training Center; Dr. Leung; Jason Beebout, consultant; and Eugenio Castro, Jr., Training Center senior manager. Click here for more information about this course and other training opportunities at IRRI.
---

Gene Hettel is the executive director of ARFUSA and editor-in-chief of Rice Today. Click here for more information about ARFUSA and its Travel and Study Grants.