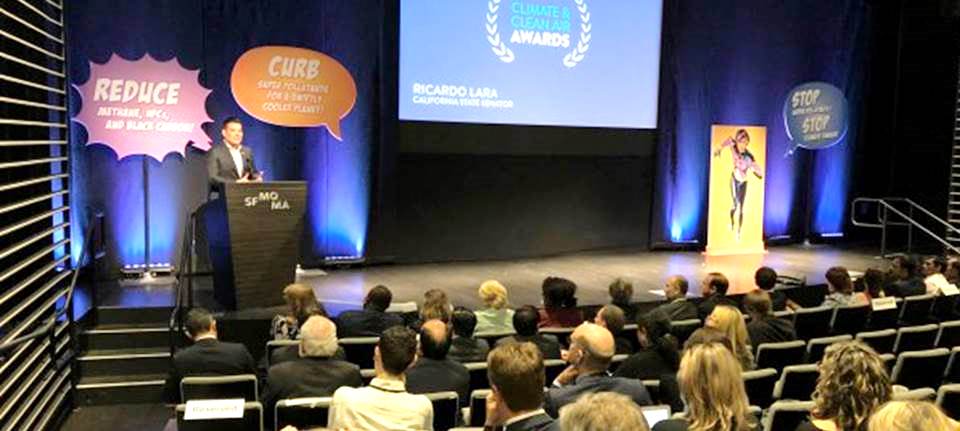 The Northwest Focal Area Network (FAN)-Bangladesh was a recipient of the Climate and Clean Air Coalition 2018 award during the Global Climate Summit held on 11 September at the San Francisco Museum of Modern Art. (Photo: CCAC)
San Francisco, CA—The Climate and Clean Air Coalition (CCAC) conferred the Innovation in Behavioural Change award to the Northwest Focal Area Network (FAN) for its effort in reducing methane emissions in rice production. FAN—a network comprising hundreds of farmers, well owners, researchers, and extension agents that focuses on rice-based systems—was recognized for disseminating climate-smart technologies like the alternate wetting and drying (AWD) to rice farmers across 8 districts and 17 locations in Rangpur, northern Bangladesh. Over 5,000 farmers have already been reached by the network and a significant number has been testing and practicing the AWD technology, along with other mitigation measures.
The FAN initiative took form through the Mitigation Options to Reduce Methane Emissions in Paddy Rice or Paddy Rice project, currently implemented by theInternational Rice Research Institute (IRRI) in Bangladesh and Vietnam, and supported by CCAC and the CGIAR Research Program on Climate Change, Agriculture and Food Security. The Rangpur Dinajpur Rural Service (RDRS) oversees the program and activities of FAN as the network secretariat.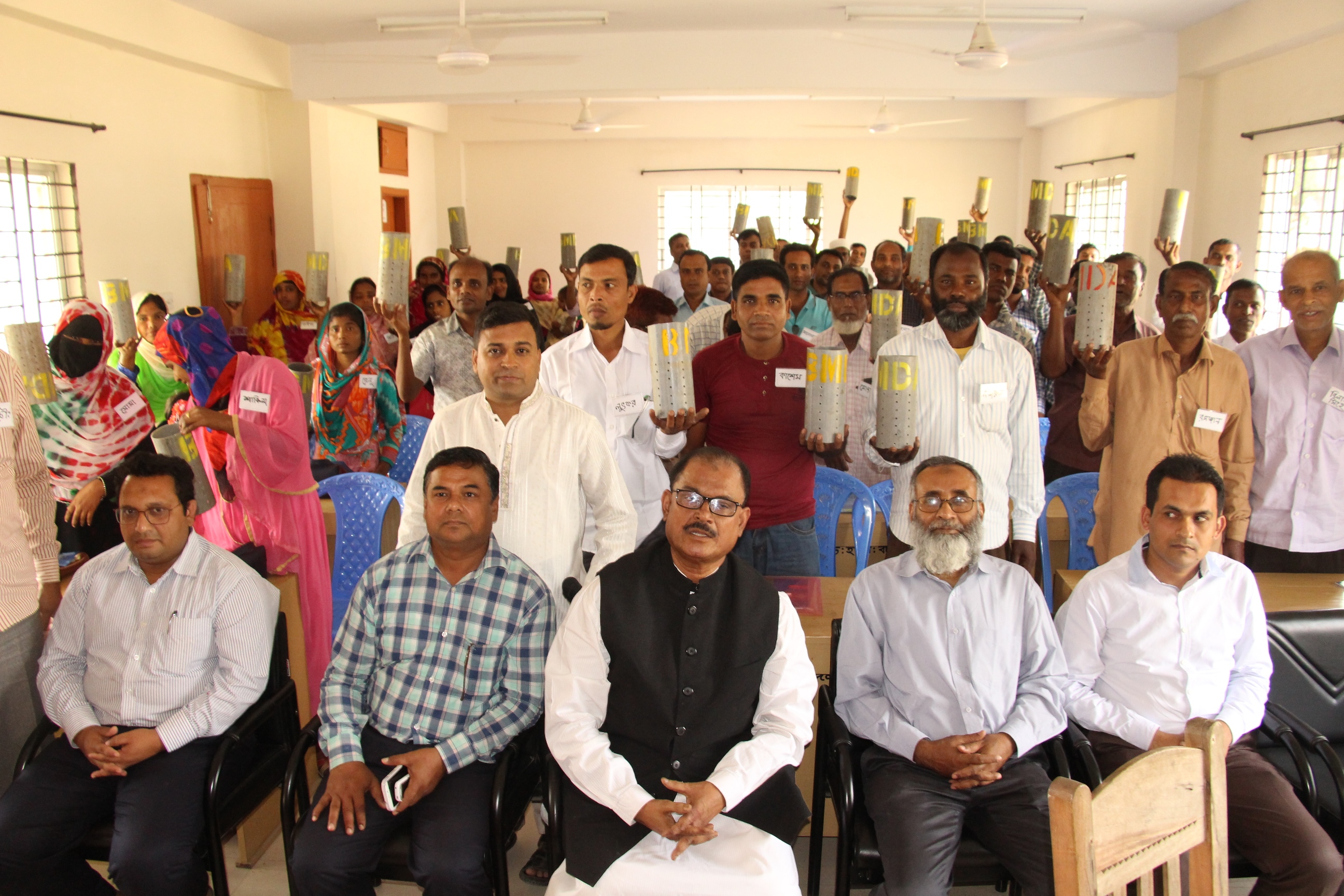 The FAN illustrates an effective model of collective action towards mitigating climate change in rice-based systems in Bangladesh. The picture shows farmers and experts in one of the learning events organized by FAN. (Photo :CCAC)
"We are mobilizing the water users and suppliers, farmer groups, and extension people to use the AWD system across 2 million hectares of rice area to reduce methane emission by more than 50% and irrigation facilities by 30% in 17 locations in the northern areas," stated Mamunur Rashid, RDRS agriculture coordinator. "This aligns with our government's mission and global commitment to reduce greenhouse gas emissions."
The CCAC Awards are given annually to individuals or groups for their exceptional contributions and actions to projects, policies, and practices that reduce short-lived climate pollutants (SLCPs) like black carbon, methane, hydrofluorocarbons, and tropospheric ozone. SLCP mitigation can cut global warming by 0.5oC and reduce crop losses by 50 million tons annually, according to a report of the World Meteorological Organization and the United Nations Environment Programme.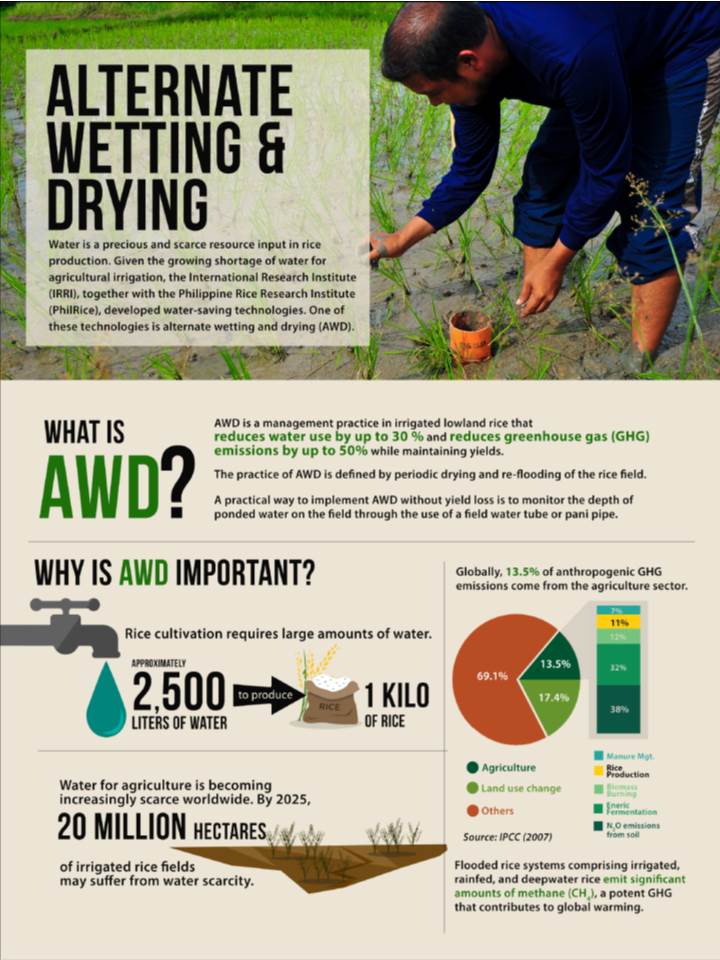 Rice cultivation in flooded paddies contributes 10% of all agricultural greenhouse gas globally, particularly methane. It also takes up more than 3,000 liters of water to produce a kilo of rice. By using the AWD technology, rice farmers are able to reduce methane emissions by up to 50% and lessen irrigation water use by 30%. The farmers also observed a decrease in diesel consumption by 30 liters to power up irrigation pumps. These offer immense benefits to low-income rice farmers in Rangpur by addressing the perennial problems of drought and scarce water supply in the area and providing additional income through cost-saving measures.
"The farmers implement AWD in small units around a pump," said Dr. Ahmad Salahuddin, IRRI project consultant. "They are taught to keep records of the number of irrigation saved, how much energy is saved with reduced irrigation, and the total savings on production cost. The different actors work collectively, sharing responsibility for farmer mobilization, training, and cross-learning while enjoying the credit equally. This experience is helping IRRI communicate the multiple benefits of the AWD technology with networks and actors working in Bangladesh on climate change."
In the next three years, the FAN targets to influence tens of thousands of farmers, which aligns to the Bangladesh Government's aim of expanding the use of AWD to 20% of the total rice cultivation by 2030 as part of its Nationally Determined Contributions. Although the targets are rather ambitious, the initiative has resonated with private entities and other network members; this could significantly facilitate AWD outscaling.
"The Coca-Cola Foundation agreed to fund activities for AWD adoption in the Barind area with implementing partners Syngenta and the Development Association for Self-reliance, Communication and Health Foundations," said Dr. Bjoern Ole Sander, IRRI climate change expert and lead of Mitigation Options to Reduce Methane Emissions in Paddy Rice. "In addition, the Barind Multipurpose Development Authority (BMDA), an institutional member of FAN, plans to conduct action research and farmer-led approaches on AWD and various mitigation measures to BMDA members at the sub-district (Upazila) level."
This year, CCAC recognized 10 individuals and groups from 27 countries, including Canada's Minister of Environment and Climate Change; Leonardo DiCaprio for his advocacy work on climate change issues, and SinGas for developing and distributing small-scale biogas systems that make use of livestock manure, to name a few.
The awarding was held during the Global Action Summit at the San Francisco Museum of Modern Art on 11 September.
_______________
Ms. Joven is a senior communication specialist at IRRI.
Related News/Blog Articles
Videos