After Golden Rice receives all the required approvals for food, feed, and cultivation and is found to be efficacious, a sustainable delivery program will ensure that Golden Rice is acceptable and accessible to those most in need.
.
Biofortification, whether through conventional breeding or advanced biotechnology techniques such as genetic engineering, has been recognized as a complementary intervention for overcoming malnutrition. The continued prevalence of hidden hunger globally provides a compelling argument for a closer look at the use of advanced biotechnology techniques to improve nutritional value, especially since cereal crops—the most important source of carbohydrates that provide calories for those unable to afford diverse food sources—are oftentimes lacking in other key nutrients.
However, building a case for the adoption of biofortified crops requires developers to step out of their labs and test fields and look at the crop from the perspective of the market. At the recently concluded Economics of Biotech Crops: a symposium to promote economic and financial literacy, scientists and economists came together to present their findings on the economic valuation of biofortified genetically modified (GM) crops, their potential impact on farmers, and policy recommendations for their adoption in the Philippines.
The symposium was organized by the International Rice Research Institute (IRRI), International Service for the Acquisition of Agri-biotech Applications, Southeast Asian Regional Center for Graduate Study and Research in Agriculture through its Biotechnology Information Center, and the Philippine Economic Society, as part of the institute's activities for Nutrition Month in the Philippines.
Value-for-money nutrition intervention
"Demonstrating proof-of-concept and impact assessments are merely the first steps in assessing the economic impact of biofortification through genetic modification," said Matty Demont, a senior economist at IRRI and flagship leader for the Upgrading Rice Value Chains project of the CGIAR Research Program on Rice. "Other factors to consider are financial practicability, social acceptability, and whether it works in a global context."
Presenting findings from a 2017 paper that he co-authored, Dr. Demont noted that existing research demonstrates that biofortified GM crops offer good value-for-money as they can be categorized as "highly cost-effective interventions" according to World Bank standards and compared with other nutrition interventions or health-related interventions in general.
Consumer valuation—as predicted through their willingness to pay—is an important indicator of potential acceptability and market demand. Available studies show that the framing of information regarding biofortified GM crops plays a crucial role in a customer's acceptability and willingness to pay for such goods. Consumers are exposed to information, although sometimes conflicting, from diverse sources. Dr. Demont asserted that the order in which these messages are received crucially matters. Acceptability of biofortified GM crops is higher when negative information is succeeded by positive information than when the order is reversed.
"Consumers respond positively to the potential nutritional benefit of biofortified GM crops and even more so when they learn about the humanitarian aspect," he said.
Although these experimental consumer studies present an optimistic prospect for the adoption of biofortified GM crops, such as the beta-carotene-fortified Golden Rice developed by IRRI, several challenges remain in order for these crops to be made available on the market. These include strengthening existing seed systems to ensure proper dissemination, building value chains that can govern biofortified crops without causing trade disruption, and integrating biofortification into public policy.
More than a communication campaign
In his response to Dr. Demont's presentation, Ramon Clarete, a professorial lecturer at the School of Economics of the University of the Philippines, echoed some of these recommendations, noting that public acceptance of Golden Rice and other biofortified GM crops requires more than just a robust communication campaign.
"Subsidizing costs will help in gaining acceptance among those with low purchasing power," Dr. Clarete said.
Dr. Marites Tiongson of the De La Salle University School of Economics reiterated the need to conduct further research on the price and income effects of adopting biofortified GM crops as well as willingness-to-pay studies specific to Golden Rice.
Golden Rice is the first nutritionally enhanced GM rice to receive positive food safety and nutrition assessments from three leading regulatory agencies: Food Standards Australia New Zealand, Health Canada, and the United States Food and Drug Administration.
Regulatory applications are currently under review in Bangladesh and the Philippines. Public consultations are an integral component of the national biosafety regulatory process in the Philippines.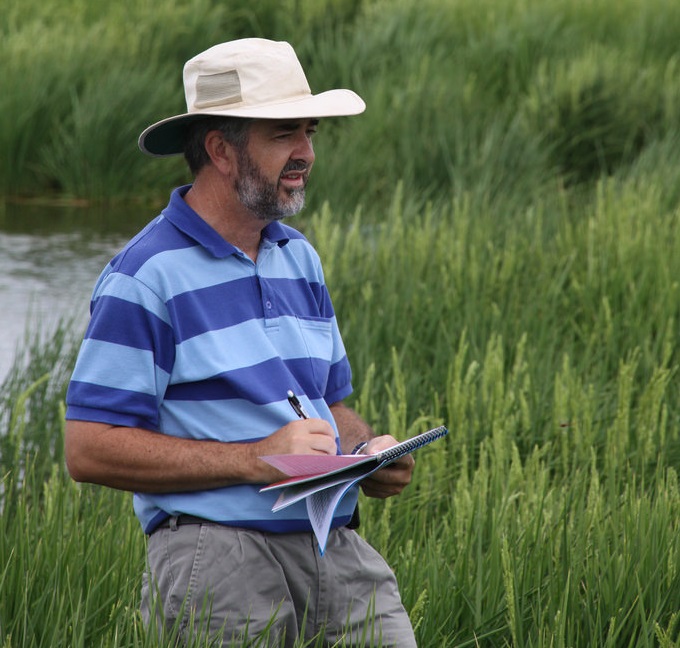 Russell Reinke, leader of IRRI's Healthier Rice Program (above), acknowledged the importance of creating an enabling environment for the adoption of Golden Rice and other biofortified rice varieties being developed by the program such as high-iron and high-zinc rice.
"We are working with our partner institutions in improving outreach among all concerned stakeholders," Dr. Reinke said. "After Golden Rice receives all the required approvals for food, feed, and cultivation and is found to be efficacious, a sustainable delivery program will ensure that Golden Rice is acceptable and accessible to those most in need."
____________________
Ms. Vega is a senior communication specialist at IRRI.