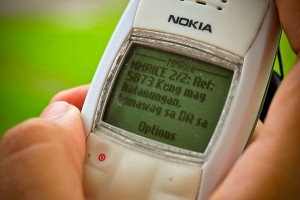 Rice farmers in the Philippines can now get advice via their mobile phone on the optimal timing, amount, and type of fertilizer to apply to their rice crop to maximize production and profit, and reduce waste.
Nutrient Manager for Rice Mobile (NMRiceMobile) was launched today by the International Rice Research Institute (IRRI) and the Department of Agriculture (DA) through its Agricultural Training Institute in Quezon City, Philippines.
Fertilizers are the second-largest cost for rice farmers after labor. In Asia, where 90% of the world's rice is produced and consumed, rice receives about one-third of all fertilizer used in the region.
Fertilizers supply rice crops with essential nutrients to meet crop needs for sustaining the high yields needed for a growing food demand.
Dr. Roland Buresh, IRRI's nutrient management expert and lead developer of NMRiceMobile, explains that, "Crop management practices must be tailored to location-specific needs in order to produce sufficient food at affordable prices for consumers and with higher profitability for small-scale farmers.
"The same holds true for applying nutrients to cereal crops like rice," he adds. "This is because optimal amounts and sources of nutrients to meet crop needs can vary even across short distances within or among fields. If the application of nutrients as fertilizers is inadequate, it can result in a loss in yield and profit.
"On the other hand, applications beyond the crop's needs not only reduce profit but can also increase risks to our environment."
NMRiceMobile puts into practice the principles of site-specific nutrient management (SSNM) for rice that are already well established after more than a decade of research in Asia's major rice-growing areas. This knowledge, which underpins NMRiceMobile, is available in an online decision-making tool named Nutrient Manager for Rice, which is tailored to the rice-growing conditions of a country – in this case, the Philippines. It enables extension workers, crop advisors, and farmers to rapidly determine a fertilizer best management practice for a specific field or rice-growing area.
"Nutrient Manager for Rice was first made available on CDs in 2008 in the Philippines using local languages, but its distribution reach into rice-growing areas was limited," says Dr. Buresh. Moreover, the DA wanted to put Nutrient Manager for Rice easily within the grasp of Filipino farmers and their extension workers to help them supply rice plants with the right amount of nutrients at the right time.
"Many Filipino farmers don't have ready access to a computer – but most have access to a mobile phone, so it made sense for the DA to pursue mobile phones as a way to communicate with farmers," says Dr. Buresh.
Farmers and extension workers can now dial a toll-free number (2378 for Globe subscribers and *2378 for SMART subscribers) at which they can hear a voice instruction in their preferred local language of Tagalog, Cebuano, Ilonggo, or English, which will prompt them to use their keypad to answer 12 to 15 questions about their rice crop. After answering all the questions, the farmer receives a tailored fertilizer recommendation via a text message.
Says farmer Mamerto Jimenez from Isabela, "It's so fast and easy to understand." Romeo Pangan from Isabela also says he does not have to guess the amount of fertilizer needed anymore.
The use of a toll-free number from a mobile phone greatly increases access to NMRice.
The development of Internet versions of NM Rice is also under way in Bangladesh, China, India, Indonesia, Vietnam, and Africa.
The DA together with the Swiss Agency for Development and Cooperation (SDC), theInternational Plant Nutrition Institute (IPNI), the International Fertilizer Association (IFA), and theInternational Potash Institute (IPI) have supported the development of NMRiceMobile.