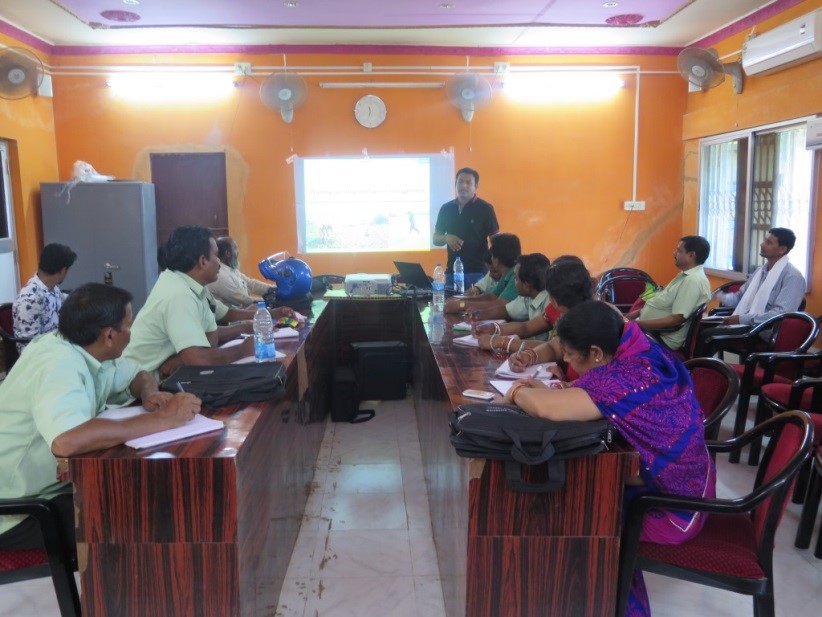 ODISHA, India—India's Department of Agriculture (DoA) conducted training on Integrated Weed Management (IWM) for 25 input dealers to make them effective sources of farming information at the village level and help farmers with their day-to-day problems.
The training held in Bhadrak on 29 March was organized by the DoA, in collaboration with the Cereal Systems Initiative for South Asia (CSISA). It aims to bridge the knowledge gap, improve skills, and build the capacity of input dealers on IWM options in rice, pulse, and oilseed. Participants were trained on the extent of losses caused by weeds, different types of weeds, and the importance of IWM. IWM using cultural and chemical methods in rice, maize green gram, groundnut, mustard and sunflower and mechanical weeding using mechanical weeder in rice, maize, and sunflower were also covered.
The training is part of the DoA's Diploma Program in Agricultural Extension Services for Input Dealers (DAESI). The one-year diploma program was designed by the National Institute of Agriculture Extension Management (MANAGE) to provide input dealers with relevant and location-specific agricultural education and equip them with sufficient knowledge to become para-extension professionals.
Under the supervision of Odisha's state agriculture departments and facilitated by MANAGE, DAESI is targeting 12,000 input dealers in India every year per year through active involvement of the State Agricultural Management & Extension Training Institute, Agricultural Technology Management Agency, Krishi Vigyan Kendras, agribusiness companies, agriculture colleges, and non-government organizations.