Innovation lies at the heart of the new strategic plan of the International Rice Research Institute (IRRI). It is a building block for attracting long-term investment and strengthening the organization's role within the rice science sector. Initiatives that generate new ideas and support original ways of working serve as a foundation for the organization's future.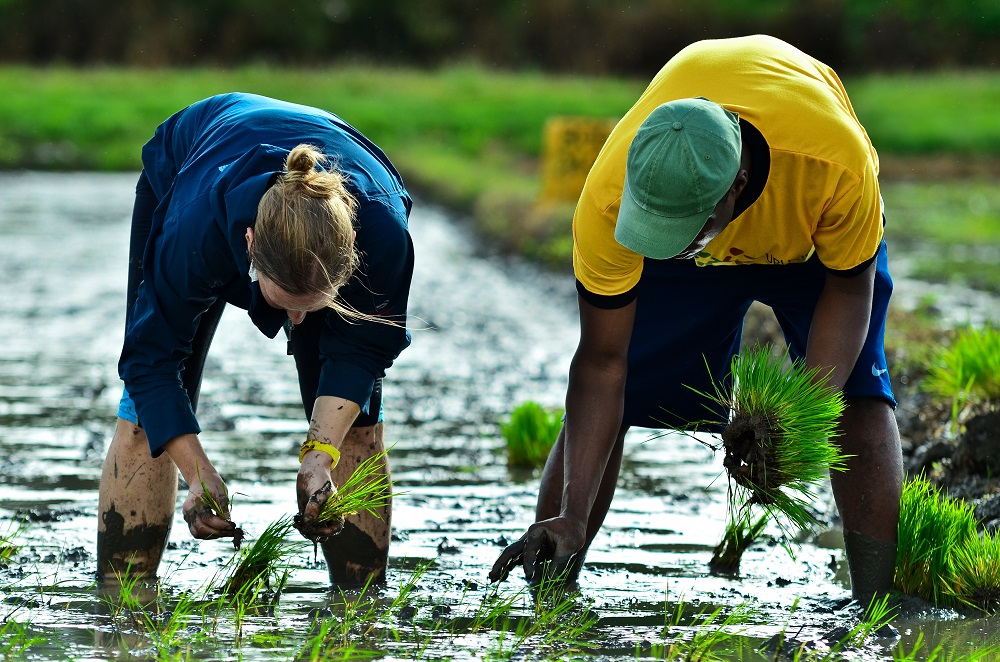 In 2017, the IRRI Seed Grant Scheme awarded USD 15,000 each to six research teams led by young scientists. (See Winning science: Meet the awardees of the first IRRI Seed Grant Scheme) The aim was to foster innovative and collaborative research and provide young scientists with experience in securing and managing independent research funding. We report on the outcomes, challenges, and lessons learned from the first year of the scheme.
Accessing local knowledge to help farmers
The winning proposals included the team led by Harold Valera, a social scientist in IRRI's Sustainable Impact Platform. The team wanted to gain a better understanding of farmers' behavior toward the adoption of new technology such as Rice Crop Manager (RCM), a decision-support tool designed to help Philippine farmers increase their yield and income.
From the field surveys conducted in the province of Camarines Sur, Dr. Valera's team discovered that smallholder farmers at the study sites benefit more from RCM adoption in terms of yield increase.
"Our results show that a majority of the sample farmers who attended the RCM interview have received printed recommendations and most of them have fully adopted RCM," Dr. Valera said. "Farmers' participation in training enabled them to have positive perceptions about RCM knowledge, extension workers, and dissemination."
Dr. Valera added that the success of their research has, in part, been due to a highly effective collaboration with researchers at the Central Bicol State University of Agriculture. "Without access to this local knowledge, the conduct of this survey would not have been as effective," he said.
IRRI is effectively translating its upstream research into real-world benefits and providing a means for measuring its success and opportunities for future development.
Securing our research future
Nguyen Van Hung, also in the Sustainable Impact Platform, is part of a team that develops new technologies in mechanization and postharvest processes at IRRI. His team used the research grant to develop EasyHarvest, an application that optimizes the scheduling of combine harvester services.
"We anticipate that this app could help reduce postharvest losses by 3% and farmers' costs by as much as 10%," said Dr. Nguyen.
The app's pilot system was demonstrated at the 2018 IRRI Science Week, during which he discussed how the Seed Grant Scheme enabled his team to generate proof-of-concept data that can be used to attract additional funding.
"This has proven to be a very effective use of limited financial resources as it offers the potential to build future research capacity," he said.
Managing effective collaborations
Working directly with plant breeders, scientist Nitika Sandhu in the Rice Breeding Platform set out to identify rice varieties suitable for direct seeding rice and develop appropriate nutrient management practices.
"This technology aims to improve the productivity of rice crops in marginal environments, ultimately contributing to food security in the future," Dr. Sandhu said.
Her research plan was perceived as highly ambitious and the peer-review panels were concerned that she would be unable to deliver all of the objectives. However, Dr. Sandhu accomplished all of them by forming strategic partnerships and sharing resources to conduct large experiments with shared hypotheses. The project represents incredible value for the money and is an excellent example of how effective management can maximize the results obtained from research.
Finding simple innovative solutions
Nikolaos Tsakirpaloglou, a molecular biologist in the Strategic Innovation Platform, sought to evaluate the performance of biofortified rice lines under future climatic conditions. This would ensure that the lines were grown in the appropriate geographic zone to maximize their impact on offsetting the effects of malnutrition.
Dr. Tsakirpaloglou originally thought he needed to use specialized growth chambers in which he could manipulate the carbon dioxide concentration in the air. After a discussion with researchers from the C4 Rice Center, he realized that these would not adequately simulate field conditions, thus limiting the impact of the research.
"However, there was an alternative solution to this concern," Dr. Tsakirpaloglou said. "We could achieve a similar effect by growing the rice plants under shading conditions (covered by mesh) to alter the irradiances and subsequently photosynthesis and growth levels."
This cheap and practical solution enabled the team to collect data from plants grown under field conditions. Their research highlights the benefits of collaboration to share ideas and knowledge.
Pioneering research
Hsiang Chun Lin, an expert in applied photosynthesis and systems modeling in the Strategic Innovation Platform, led a team to screen for differences in the organelle genome sequences of 3,000 rice varieties. In the first analysis of its kind, the team identified useful alleles for photosynthetic and agronomically important traits in chloroplast and mitochondrial genomes.
"These two structures play an important role in photosynthesis and have their own distinct inheritance and protein function," Dr. Lin said. "The aim of our research was to both improve our understanding of the evolution and domestication of rice and find a variation that can potentially be used for improving rice photosynthesis. If differences in the genome sequence can be related to traits that affect growth, biomass production, and yield, this will help inform the breeding process by identifying suitable breeding lines."
Dr. Lin said that their analysis yielded some interesting results. Now, they face the challenge of converting their scientific finding into knowledge that other researchers can freely use.
Translating basic research
Dmitri Chebotarov, a computational geneticist in the Strategic Innovation Platform, led a team in developing a Marker Placement Prioritization Algorithm (MAPPA). This software will help breeders maximize the value of genomic information and speed up its use in breeding. This research was born out of a conversation with Juan Arbeláez Vélez, a scientist in the Rice Breeding Platform.
"At the time, I was thinking about how I could help breeders," said Dr. Chebotarov. "Dr. Vélez pointed out that what is currently missing is a good tool to design low-cost genotyping chips, so we set out to create such a tool."
The beta version of MAPPA has been validated in simulated breeding trials and will now be tested in field experiments. Once complete, the tool will be released as open-source software.
"Our team is very keen to receive suggestions about this tool from the scientific community to ensure that we deliver a usable product," Dr. Chebotarov said.
Challenges and lessons beyond science
The principal investigators identified budgeting and time management as the two greatest challenges in conducting their research.
Accurately estimating the cost of their experiments was difficult without a precedent to guide them. They viewed the grant fund of USD 15,000 as an amount that must be spent rather than a maximum allocation. It was also hard for them to put a value on in-kind contributions from their existing research networks. Even with sound budgets in place, forecasting the final cost of goods and services proved to be an arduous task.
This led to modest underspending by almost all of the teams. They also encountered a constant struggle in juggling the time for planning, managing, and undertaking experimental work. They had neither the time nor the money to do everything they wanted and faced hard choices about setting their priorities.
They offered the following advice to future Seed Grant Scheme awardees:
Communicate frequently, clearly, and confidently. Be clear about what you are doing and why from the beginning. Do not assume that other people understand or share your vision. Continue discussions because projects could evolve quickly in very unexpected ways.
Experience is key. Seize every opportunity to learn but also seek the guidance of more experienced researchers. The guidance and knowledge of their supervisors have been essential in the success of the principal investigators.
Value of collaboration. Innovation can be found in unexpected and unusual collaborations. By bringing scientists from across the organization together, the awardees were able to share their passion, spread their enthusiasm, realize they have a great deal in common, and gain a better understanding of how their research fits into the bigger picture.
The way forward
Research goes on even after the Seed Grant Scheme has ended. The awardees continue to analyze their data and prepare their manuscripts for publication. The tools and applications they developed will be refined, tested, and then released. When possible, the results will be used to support applications for further external funding.
The feedback and suggestions received this year will be used to shape the second year of the scheme, which will be managed by Technology for Development lead Carolyn Florey, plant breeder Dr. Shalabh Dixit, and postdoctoral fellow Helena Wehmeyer.
Click here for more information about the scheme and the research it has generated.
_______________
Dr. Radanielson is a cropping system scientist and Dr. Coe is a scientist in plant phenomics at IRRI.