As climate patterns become more unpredictable, rice farmers are relying on a modern way of to forecast the monsoon rains.
Central Lombok is one of the districts in West Nusa Tenggara, Indonesia, where rainfed rice is the dominant system of rice production. Farmers in Segala Anyar Village grow rice relying solely on rainfall as their source of water.
"On a particular sunny day during the dry season, we stand under the sun and look at our shade to foresee when the rain comes and we can start rice planting," one experienced farmer said.
This is the local wisdom called "Warige" practiced by the Sasak people. It is an ancient calendar that combines traditional Sasak astrology with Islamic and lunar calendars. Despite a rainy season that spans more than five months, farmers in this village grow rice only once a year because of severe drought at the beginning of past seasons as the weather has become more unpredictable than the earlier times when Warige was practiced.
Rice is not only food but is also a symbol of wealth in Sasak society. Working hard in the rice fields is the way to gain prosperity for families; hence, farmers are eager to grow rice. However, rice production in Segala Anyar is subsistence and farmers have to grow other crops such as mungbean after rice to surpass the subsistence.
Working hard for less
Serdang Village in Deli Serdang District is another rainfed area located in North Sumatera, a province on the northern tip of Sumatera Island. Unlike the farmers in Segala Anyar, the farmers in this village have shallow tube wells in their fields for supplementary irrigation during crop seasons. Despite the extra cost for fuel to operate water pumps, farmers can avoid drought stress during critical crop stages and aim for higher yield.
However, a study found that they use more than enough water to obtain high rice production not only in the dry season but also during the rainy season. Many farmers take out loans through personal connections to pay for their production cost and what they earn from their harvest is only enough to cover what they paid. Eventually, they don't have many savings left for their household needs.
The poverty rate is comparatively higher in Central Lombok and Deli Serdang than in other areas. Rainfed rice farmers in both districts live on less than USD 1.90 a day. Although rice farming is laborious and rice farmers work very hard for their family, their lives remain subsistence because of a vicious cycle.
Women and WeRise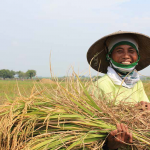 "We look for signs from nature to determine when it's time to sow," said Sukarni, a woman farmer from Pati District, Central Java who plays an active role in rainfed rice farming. "Rain is our primary source of water for rice production. Some people have wells but these could dry up during the dry season."
Sukarni says transplanting and weeding are the most backbreaking chores for women farmers like her. Their chores become even more difficult with the lack of rain.
"It is harder to pull out the seedlings and weeds when there is no water," she said.
WeRise could definitely improve her plight and those of other Indonesian farmers in rainfed rice-producing areas. 
Modern-day Warige and more
WeRise, a weather-rice-nutrient integrated decision support system for rainfed rice areas, is an online ICT tool developed by the International Rice Research Institute (IRRI)-Japan Collaborative Research Project (IJCRP) with funding from the Ministry of Agriculture, Forestry and Fisheries of Japan. This system uses a seasonal-weather forecast that provides farmers with crucial weather information such as the start and end of the rainy season and rainfall distribution during the crop growing season. It also advises farmers when to sow and transplant, what variety is appropriate to use, and how to apply fertilizer efficiently.
It is similar to a free and friendly consultant that helps rainfed rice farmers to be strategic for better rice production and allows them to anticipate severe weather conditions and avoid risks during the cropping season. Through WeRise, rainfed rice farmers can see changes for the better by transforming the vicious cycle to a virtuous cycle. With better decisions that rice farmers can make at the beginning of the cropping season, the more improvements they can expect even in rainfed conditions.
In its current phase, the IJCRP is targeting the main rainfed rice areas in Sumatera, Java, and other areas of Indonesia. On-farm field validations are being conducted to demonstrate the strength of WeRise. The IJCRP is also collaborating with various stakeholders to accelerate the dissemination and adoption of the technology.
Changing outcomes and attitudes
WeRise can help farmers in Segala Anyar grow a second rice crop by providing the optimum sowing timing and using rainfall water more productively. WeRise can also help farmers in Serdang reduce the amount of water from supplementary irrigation during the rainy season by avoiding weather extremes, especially during panicle initiation and flowering stages.
WeRise was introduced to some rainfed rice farmers in Segala Anyar and Serdang as part of the baseline surveys and focus group discussions conducted by the IJCRP. "Can we try the predictions next cropping season?" was the most common request made during the orientations.
As with most new technologies, WeRise was met with some apprehension. A majority of the participating farmers in Segala Anyar said they would need more socialization and training on the use of this tool while most participating farmers in Serdang said they would need to see proof of its accuracy and tangible benefits. However, it was encouraging to see the farmers who were eager to try WeRise.
Rainfed fields are commonly described as an unfavorable environment because farmers rely on unpredictable weather for their water supply. With WeRise, people will say, "In rainfed areas, farmers have free water from the rain, their rice crop grows healthier, and their lives are better."
_______________
Dr. Hayashi is a soil scientist seconded from the Japan International Research Center for Agricultural Sciences and the coordinator of the IJCRP on Climate Change Adaptation through Development of a Decision-Support tool to guide Rainfed Rice production.