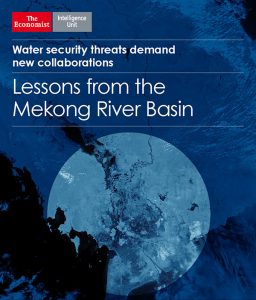 The Mekong River Basin constitutes a resource-rich river system that provides water, food, and energy to millions of people in China, Myanmar, Thailand, Lao PDR, Cambodia, and Viet Nam. But energy and agricultural production, climate change, and an increasing population that demands more water resource threaten the sustainability of this precious river system.
The Economist Intelligence Unit (EIU) published a report which presents an analysis of the different water challenges in the Mekong River Basin and counter measures to approach these challenges. The report features rice farming technologies developed by the International Rice Research Institute (IRRI), which could alleviate some of the impacts of these challenges.  
In terms of agricultural production, the EIU Report features the alternate wetting and drying technology (AWD) or intermittent irrigation of the rice field as an effective water-saving measure. It reduces water consumption in paddy rice by 30% and consequently, reduces the cost of pumping water. Additionally, AWD helps mitigate emissions of methane—a greenhouse gas—in rice production by 50%. Its effectiveness has been proven particularly in Viet Nam where the Ministry of Agriculture and Rural Development targets its widespread adoption.
"Policymakers are interested in AWD because it can save irrigation water, increase the profit of farmers, and mitigate greenhouse gas emissions," said Bjoern Ole Sander, a climate change scientist at IRRI.
Saltwater intrusion is another serious problem in the Mekong Delta. As an adaptation measure to this environmental challenge, the Cuu Long Delta Rice Research Institute and IRRI have been testing and introducing rice varieties that can better withstand salinity. However, more research is required because more varieties with higher salt-tolerance levels are needed as well as speeding up varietal dissemination to make the new varieties widely available.  A complex river system like the Mekong River Basin also requires strong transboundary engagement, agreements, policy, and governance to ensure its sustainability.
"Good water management will require a regional strategy that both saves water upstream and also sustains freshwater flows downstream so that salinity is pushed out of the delta," Dr. Sander emphasized.
Read the full report: Water security threats demand new collaborations: Lessons from the Mekong River Basin