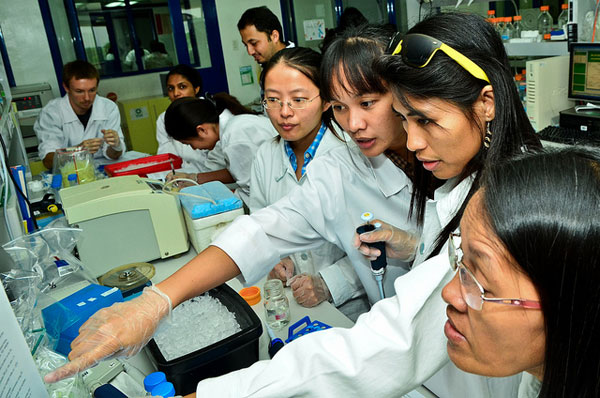 The International Rice Congress is the largest gathering of rice scientists and experts who come from all over the world to share their latest research work. The upcoming Congress (IRC2014), which will be held on 27 October-1 November 2014 in Bangkok, Thailand, will focus on increasing the food security of half the world's population.
Why attend?
IRC2014 is a forum for exchanging ideas, experiences, and best practices, and learning about the latest developments in rice science as well as key issues in the rice industry. But, it is also a great opportunity for participants to be part of a community for networking and contributing to trends and initiatives.
"'Participants will be among 2,500 intelligent, innovative, and engaging players in global rice science and industry—surely a rich learning and networking environment," said Bruce Tolentino, IRC2014 chair and deputy director general for communication and partnerships at the International Rice Research Institute.
"Participants' perspectives will be broadened because IRC2014 will enable delegates to meet and interact with a wide range of delegates, scientists, and other rice industry players," he added. "This promotes synergy in meeting shared challenges together."
What to expect
"With its theme, Rice for the world, we are obviously looking at the whole range of topics from growing rice in the deltas to looking at root physiology, for example, or from climate-ready rice to real-time satellite mapping and remote sensing," said Mike Jackson, science chair of IRC2014.
The IRC2014 organizing team wants to be quite innovative. Each morning and afternoon, there will be a plenary lecture given by speakers who are not necessarily rice scientists.
"We have invited several speakers who will bring new perspectives on agricultural development issues relevant to rice science," Dr. Jackson added.
"We also want to add a great deal of value by carefully identifying the best speakers," said Dr. Tolentino. "They must have the necessary expertise, practical experience, and the ability to engage audiences in an interesting way."
Open invitation to young scientists
"We are in the process of building a program that is broad in its scope, scientifically very strong, and interesting in its detail," said Dr. Jackson. "We want to encourage the participation of rice researchers and experts everywhere, especially young rice scientists, and give everybody a chance to have their work presented."
Most rice researchers or graduate students for MS or PhD degrees working in a relevant rice research discipline under the age of 35 are considered to be "young rice scientists."
"They should think seriously about presenting their work at IRC2014," added Dr. Jackson. "They never know; theirs might be selected for the oral program. If not, they can always present a poster." However, those below 35 years of age who received their PhD degree before 1 January 2012 will not be considered in this category. "Well, it's possible that someone like this could be already on their second postdoctoral fellowship, and we'd like to even the opportunities somewhat," explained Dr. Jackson.
The Call for Papers and Posters- Submission of Abstracts will begin in mid-January once the IRC2014 website has been launched. For oral presentations, young rice scientists must be the lead author. All abstracts for oral presentations will be selected on merit, and, if their abstracts are chosen, each young rice scientist will receive a travel grant and free registration.
"This is a huge event," stated Dr. Jackson. "Imagine it as an excellent networking opportunity. There will be more than 200 oral papers and perhaps as many as 800 or more posters."
Interested parties can visit the IRC2014 website (http://ricecongress.com/) for further announcements and the latest information.