BAGUIO CITY, Philippines—Despite the growing consumer demand, most heirloom rice farmers in the Cordillera Administrative Region (CAR) face significant challenges when it comes to marketing their products and shipping them to consumers. To help them overcome this barrier, a regional market forum was held in Baguio City to bring heirloom rice farmers, entrepreneurs, and retailers together for the opportunity to negotiate possible market linkages face-to-face.
The forum, Regional market encounter for heirloom rice, held on 26-27 October, attracted heirloom rice producers from the provinces of Benguet, Mt. Province, Ifugao, and Kalinga as well as representatives of food companies. The farmers displayed several varieties of heirloom rice including Ominio/Balatinaw, Chor-chor-os, Gilgilang, Pulliki from Mt. Province; Innawi, Donaal, Imbu-an, and Minaangan from Ifugao; Chong-ak and Chaykot from Kalinga; and, Lasbakan, Lablabi, Bongkitan, Kabal and Balatinaw from Benguet.
During the event, three newly formed farmers' cooperatives launched new packaging designs and trade names conceptualized by the Department of Science and Technology-Industrial Technology Development Institute for varieties with ready markets or have strong market potential (photo, right).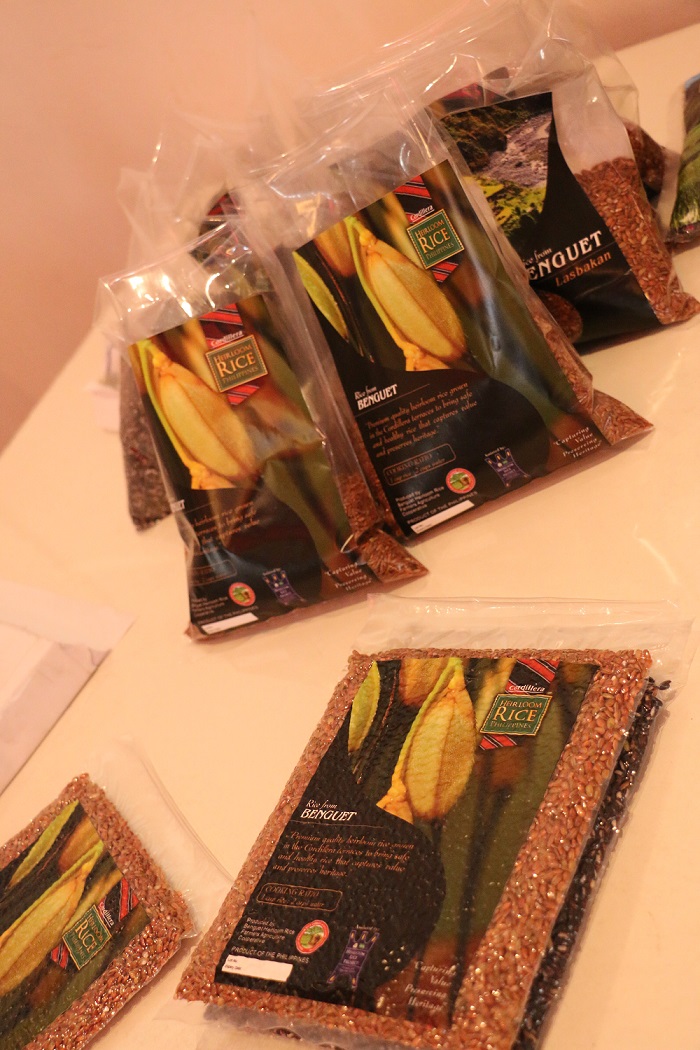 On the buyers' side, representatives of several companies in the food industry and food-related businesses attended the event with the intent of expanding the heirloom rice market through various channels. Some market movers were interested in linking heirloom rice to the European market. Others sell heirloom rice online or market them as healthy food products directly to consumers.
Irene Lapus, a research and development specialist at Marigold MFG Corporation and one of the resource speakers, discussed her company's experience regarding market challenges in terms of supply, logistics and communications, and most notably, quality control.
"Our company has been at the forefront of promoting heirloom rice through our popular brand, Mama Sita," said Lapus. "We created a champorado (a sweet chocolate rice porridge) recipe out of the glutinous varieties Balatinaw, Kotinaw/Enggoppor, and Chaykot."
Beyond the market issues, there is an ethno-cultural value attached to the heirloom rice products, according to Virginia Tapat, OIC of the Field Operations Division of the of the Department of Agriculture (DA)-CAR Field Office.
"The documentation of the evidence of this value is essential, alongside characterizing the varieties that either have an existing market or market potential, or are near extinction," said Tapat. "These are components that the Heirloom Rice Project (HRP) highlights as it provides the needed resources for increased market demand without compromising farmers' rights and intellectual property (IP)."
HRP is a collaborative undertaking of the DA, the Philippine Rice Research Institute, and the International Rice Research Institute (IRRI). IP protection is, in fact, addressed with HRP's intention of applying for Geographical Indication for the heirloom rice under the supervision of Dr. Digna Manzanilla of IRRI.
"We are continuously working, ensuring that the voice of farmers is heard," Tapat said. "It is through these market encounters, in which several are still set in the immediate future, that such aim is realized."
The forum was co-sponsored by HRP and the Agribusiness and Marketing Assistance Division of the DA-CAR Field Office.