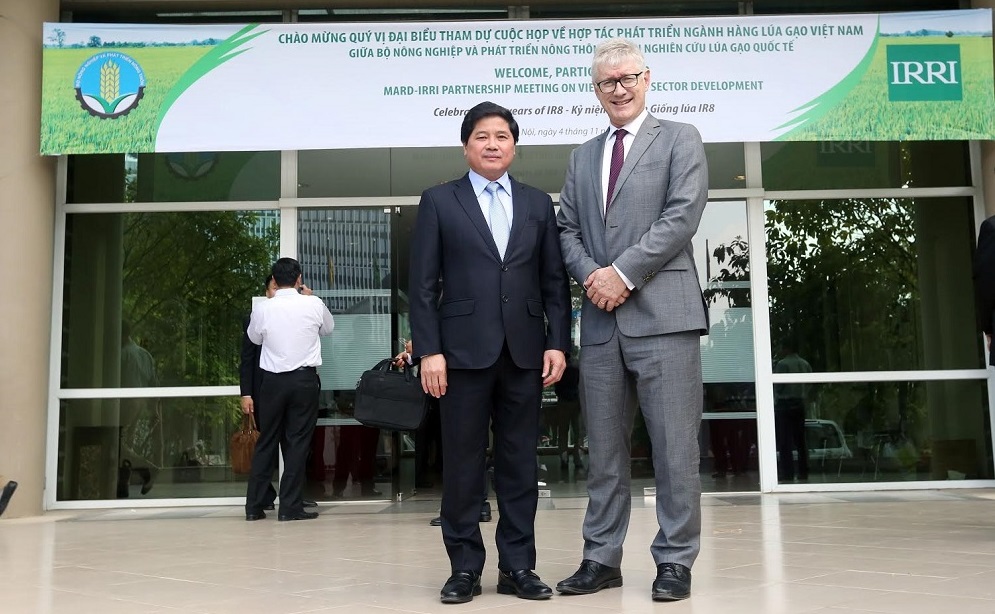 HANOI, Vietnam –The world's fifth top producer of rice is set to 'restructureʹ its rice sector to improve its resilience to climate change and agility in the global market, and promote a "Vietnam brand" of rice.
In a series of events that took place in Hanoi on 4 November, a delegation from the International Rice Research Institute (IRRI) met with Vietnam's Ministry of Agriculture and Rural Development (MARD) to discuss priority programs to significantly enhance Vietnam's rice sector.
MARD, led by newly appointed Minister Nguyen Xuan Cuong, discussed its Master Plan on Restructuring the Vietnam Rice Sector Up to 2020, Vision 3030.
The rice master plan lists the government's targets for the rice sector over the next four to 14 years as well as priority solutions that include building the rice research program and investing in scientific and technological organizations, improving extension capacity and innovating a rice extension program to align with the value chain, deploying a 'national product' program for a high-quality and high-productivity Vietnam rice, and encouraging public-private partnerships.
The document also outlined MARD priority recommendations in its collaboration with IRRI. MARD and IRRI discussed their joint implementation of the research for development partnership in the coming years.
In the same meeting, Sam Mohanty, IRRI economist and head of the institute's Social Sciences Division, presented on global rice trends and how Vietnam's produce figures in it.
The meetings, co-chaired by MARD Vice Minister Le Quoc Doanh and IRRI Director General Matthew Morell (see photo), were preceded by the opening by the two leaders of new office spaces for the IRRI Vietnam Office and the CGIAR Research Program on Climate Change, Agriculture and Food Security. The offices are located at the Agricultural Genetics Institute in the Vietnamese capital.
The Vietnam-IRRI partnership started in 1963, a long-term collaboration that has seen the development of high-yielding—and more recently, climate-resilient—rice varieties for the country, sustainable farming practices, conservation of rice diversity, climate-smart agriculture particularly in the vulnerable Mekong Delta, and the hosting and training of more than 850 Vietnamese scholars and course participants