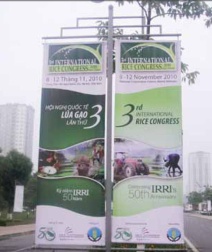 The International Rice Research Institute, in partnership with AsiaCongress, held its Third International Rice Congress (IRC2010) on 8-12 November at the National Convention Center in Hanoi, Vietnam. Attended by more than 1,900 participants from more than 66 countries, the event could not have come at a more opportune time as the world once again faces a fork in the road to ensuring global food security.
During the opening of the IRC2010, Dr. Robert Zeigler, IRRI director general, noted that rice remains of utmost importance to the developing world, especially in Asia, but increasingly in Latin America and Africa, where rice is the fastest growing food staple.
"Projected demand for rice will outstrip supply in the near to medium term unless something is done to reverse the current trends of slow productivity growth and inefficient, often unsustainable management of natural resources," Dr. Zeigler stressed.
"By 2050, it is our responsibility to increase global food production by 70% and to double food production in developing countries," Vietnam's Minister of Agriculture and Rural Development Cao Duc Phat said. "This is essential to feed the world's fast-growing population."
Vietnam's Prime Minister Nguyen Tan Dung, however, pointed out that efforts to increase food security are currently threatened by industrialization and urbanization that have shrunk the area planted with rice, climate change, plant diseases, poor investments in agriculture, inefficient policies, and the use of crops for biofuels, among other challenges.
For International Fund for Agricultural Development President Kanayo Nwanze, the world is now standing at a crossroad. One road leads to a path of least resistance, through which people do nothing and risk creating a world replete with poverty, hunger, and social instability. The other leads to a path of action, through which people dare to act now and invest in agricultural and rural research and development to create a brighter future in which people can grow healthy and have better opportunities and choices in life.
Aptly themed "Rice for future generations," the IRC2010 signified a definitive step toward the path of action. Both the public and private sector have rallied their support in pushing for better investments in agriculture. Through Vietnam's Ministry of Agriculture and Rural Development, the Vietnamese government played a significant role as host for the event—highlighting Vietnam's success story in pulling the country from a state of poverty after the Vietnam War in the 1950s to 1970s to a flourishing nation that now holds the title of the world's second-largest rice exporter. Private companies, namely, Bayer, Syngenta, Kubota, Pioneer, and Lindsay Corporation, particularly served as partners of the event.
Dr. Zeigler said that it is the IRC2010's hope to bring everyone together to advance rice science and its application to reduce poverty and hunger, improve human health and nutrition, and create a better environment.
The 28th International Rice Research Conference (IRRC28) gathered the world's top rice scientists to discuss the latest scientific breakthroughs in rice that aim to provide solutions to problems posed by climate change, plant diseases, industrialization and urbanization, etc., and ultimately increase yields to meet global demand.
Moreover, in conjunction with IRRC28, the first International Rice Policy and Investment Conference brought members of the rice market together to discuss key issues concerning rice trade and the impact of policy and investment on the rice business infrastructure (see The rise of rice).
All participants were also invited to the Third International Rice Technology and Cultural Expo that featured the latest technologies, equipment, and machinery for rice farming, processing, research, and development.
Recognizing Asia's crucial role in supplying rice to the world—as it produces more than 90% of global rice—Asian ministers and their representatives gathered on 9 November to discuss the recent report titled Never an empty bowl: sustaining food security in Asia (see Asia pushes for sustainable food security).
Finally, IRC2010 also provided the perfect avenue to officially launch the Global Rice Science Partnership (GRiSP), along with the book Rice in the Global Economy: Strategic Research and Policy Issues for Food Security.
GRiSP is a mega-program that embodies the global effort to improve rice yields sustainably, lower food prices, and lift millions of people from poverty (see Blueprint for a greener revolution). The launch of this program marks the beginning of a 5-year, nearly US$600 million endeavor. While GRiSP builds on existing research, development, and funding, it requires additional new financial support to raise annual funding for rice research from around $100 million in 2011 to $139 million in 2015 to fully realize its potential.
"With many difficulties and challenges still facing food security, achieving this goal will require the effort of every nation, and especially the active support from developed countries and international organizations," Prime Minister Nguyen Tan Dung said. "We need coordinated action at regional levels as well as on a global scale."
Dr. Eija Pehu, World Bank (WB) adviser for agriculture and rural development, referred to WB President Robert Zoellick's "inclusive globalization" to emphasize the need for nations and people around the world to be more interactive, interconnected, and open in meeting these challenges. For Dr. Pehu, three key tasks lie ahead: (1) keep the message of agriculture's positive contribution to poverty reduction, economic growth, and environmental sustainability—including agriculture's critical role in combating climate change—high on the agenda; (2) support existing research partnerships and build new ones in a multipolar world; and (3) champion innovation that builds on differences as a foundation of strength.
Moreover, along with IFAD President Nwanze, Dr. Pehu stressed the need to recognize women's and youth's role in breaking the vicious cycle of poverty and ensuring food security.
She said that WB aims to have 75% of agriculture and rural development projects benefit women by 2014. Also, she advised that everyone must be mindful of "how we develop and encourage the potential of our youth." IFAD President Nwanze echoed, "If we do not engage the world's rural youth today—and lay the groundwork for profitable rural enterprises tomorrow— they will be driven to cities in search of other opportunities. If we allow this to happen, we will be left  with no one to plow the fields that will feed the future."
Yes, the future belongs to the young farmers of today. And, it is only apt that the IRC2010 also signifies a renewed commitment to young people, to later pass on to them the torch of knowledge in rice science development that will sustain rice production for future generations.
__________________________________________________________________________________________