In this recipe, Chef Robby uses Imbuucan, an heirloom rice variety cultivated by in the Cordillera region in the Philippines.
Chef Robby has more than 20 years of professional cooking and kitchen management experience, with a scope that knows no geographical boundaries. A graduate of the California Culinary Academy, he is renowned for his classic Mexican, Greek, American, and, of course, Filipino restaurants that constantly get rave reviews and have won numerous prestigious awards.
But Chef Robby is more than a culinary artist. He is a respected entrepreneur, having been named one of the country's 10 Outstanding Entrepreneurs in 2008. His talent for cooking and business has been a key to the development of iconic restaurants such as Cyma Greek Taverna, Ristras Mexican Grill, Mati Arroz con pollo by Robby Goco Greek Taverna, Triple V Group, Tequila Joe's, and Alfredo's Steak House in the Philippines.
Chef Robby's latest restaurant, Green Pastures, is the perfect stage to display his devotion to local and sustainable ingredients. The restaurant's concept is "farm-to-table" with "back-to-basics preparation," focusing on organic and locally sourced ingredients. Green Pastures is a member of the Slow Food movement, an international nonprofit, ecogastronomic organization that strives to preserve traditional and regional cuisine and protect cultures and the environment.
In this recipe, Chef Robby uses Imbuucan, an heirloom rice variety cultivated by in the Cordillera region in the Philippines. Imbuucan has splendid brown grains that seamlessly match its flavor and aroma. The round grains are firm to the bite, making Imbuucan ideal for dishes like Arroz con pollo where rice must be served al dente.
Ingredients
½ cup dark brown roux (see recipe below)
3 cups Imbuucan (heirloom rice)
4 cups Kombu stock (see recipe below)
250 grams roasted chicken (can be store-bought), chopped
50 grams crispy chicken skin (can be store-bought)
salt and pepper to taste
micro greens, as needed
Preparation
On a sauté pan, heat the dark brown roux.
Add cooked Imbuucan rice. Mix rice and roux until well combined.
Add Kombu stock and chopped roasted chicken in the mixture and let it boil. Reduce to a simmer for 8 minutes or until the rice absorbs all the Kombu stock. Season with salt and pepper to taste.
When the rice has absorbed all the liquid, turn off heat.
Garnish with crispy chicken skin and micro greens.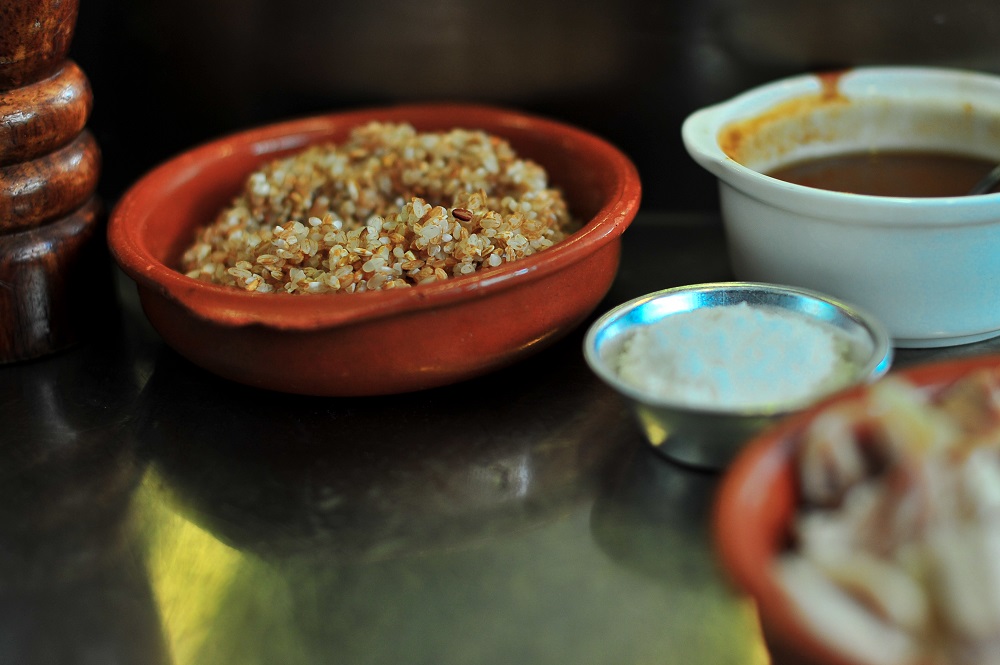 Dark brown roux
Ingredients
1 cup butter unsalted
½ cup all-purpose flour
Preparation
Place sauté pan on low heat. Melt butter in the pan.
Add flour when butter is melted and gently mix until it turns chocolate brown. This will take 30–45 minutes. Make sure the heat setting is very low to prevent the mixture from burning.
When the mixture turns into the desired color, remove from heat and transfer to a container. Set aside.
Kombu stock
Ingredients
1 whole sheet Kombu seaweed
5 sprigs fresh rosemary
5 sprigs fresh thyme
1 liter water
Preparation
Place Kombu, fresh rosemary, and fresh thyme in a mixing bowl.
Heat water to a rolling boil.
Pour boiling water in the mixing bowl with Kombu and herbs.
Steep mixture for 30 minutes before use.
___________________________________________
Chef Robby is the executive chef of Green Pastures and Cyma Greek restaurants.