So much has changed since its first publication in 2002, when Rice Today began by featuring research results mostly from the International Rice Research Institute (IRRI) and usually emphasizing Asia. In the last 3 years, it has slowly evolved toward being a global magazine on rice. Its stories come from IRRI and from institutions such as the Africa Rice Center and International Center for Tropical Agriculture, agricultural universities, and other organizations from both the public and private sector around the world. Now, more and more updates and information come from not only Asia but also Africa, Latin America, and North America.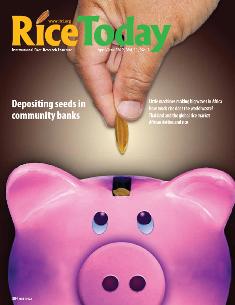 To map our way toward growth and make Rice Today truly global, one of our plans is to expand our network of partners who can also guide us in the right direction. Indeed, when more people work together, getting to a destination can be more effective. Hence, the formation of the magazine's editorial board. In May 2012, the board holds its inaugural meeting in conjunction with the Americas Rice Conference (in Miami) hosted by the magazine's publisher, The Rice Trader.
The board will assist the magazine in achieving its goals: to highlight the impact of rice research in reducing poverty, improving global food security, and tackling environmental problems; to focus on rice production in underdeveloped and developing countries in Asia, South America, and Africa; and to share the latest updates and advances in rice research and its development, extension, and adoption across the entire rice industry—farmers, farm suppliers, extension providers from the public and private sector, postharvest processors, traders, and consumers.
Since the editorial board will serve as a think tank for story ideas for the magazine that best capture the world of rice in ways that will be of interest to readers, the board includes some outstanding representatives from different areas of rice science and industry, and rice-producing regions. We would like to thank all the members of the board in anticipation of their great ideas and contributions that we hope will build on the foundation of Rice Today. (See members of the board.)
This move is timely and fitting as Rice Today will also serve as the flagship publication of the Global Rice Science Partnership (GRiSP), a strategic work plan for global rice research. With this role, we are positive that Rice Today will be able to contribute more to sharing the ideas needed that will benefit all those who have a stake in rice science and development. The publication does this by publishing compelling stories and learned opinion pieces, some of which can inspire growth and progress in the world of rice.
In this issue, a cover story tackles how farmers in southern Philippines learned to increase their supply of good-quality, culturally important seeds through community seed banks. Another success story is that of a mechanical thresher that has become popular in Africa because of its capacity to eradicate back-breaking manual labor on farms. For a more comprehensive take on rice-farming mechanization, we examine the question: What does it take to introduce farm machines in a sustainable way?
On rice consumption, we investigate how much rice the world wastes—in the end, we encourage responsible consumption to help overcome food scarcity. We analyze the perennial problems of rice supply and demand through USDA's eight economic factors that will dominate global agriculture in the next 10 years. In the same economic thread, a senior analyst from Nanyang Technological University in Singapore discusses the move toward rice self-sufficiency in Indonesia and the Philippines. Finally, our Rice Facts column scrutinizes Thailand's rice pledging scheme and its impact on world rice trade.
On the lighter, but no less significant, side, we have our mainstay What's cooking? (Panfried glutinous rice) and an article on culture called Rice of deities, featuring a function of rice other than consumption—rice as an offering to African gods and goddesses.Finally, to set an example on how partnerships can move us closer to achievements, we highlight Japan (which has supported rice research for decades); and also feature partnerships that aim to raise upland farmers' incomes. With new partners from around the world, the next decade of publishing rice stories—in a time of increasing global challenges—may be less daunting.
Lanie C. Reyes and Aileen Macalintal
Rice Today editors