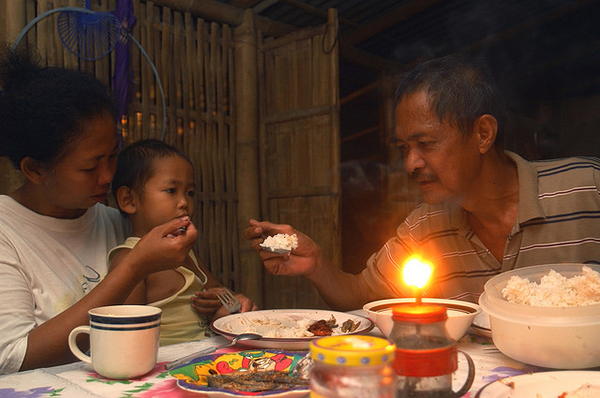 As pointed out in this issue's Grain of Truth by eminent economists from the Food and Agriculture Organization (FAO) and World Bank, the decline in poverty in Asia has been historically unprecedented in human history. Worldwide, the number of hungry people has dropped by more than 100 million over the last decade and by 209 million since 1990-92, according to a new report, the State of Food Insecurity in the World 2014 published by FAO, the International Fund for Agricultural Development, and the World Food Programme.
Unquestionably, significant progress is being made. However, more than one billion people are still poor and 805 million of them are still hungry. More work needs to be done. Rice will play a continuing role in reducing these numbers. This is so because rice is the staple food of more than three billion people on the planet and 600 million of them are living in poverty. Indeed, around 60% of the world's undernourished live in Asia, where 90% of the world's rice is produced and consumed.
With these numbers, it is comforting to know that, according to Robert Zeigler, director general at the International Rice Research Institute (IRRI), a second Green Revolution in rice is already under way (see A bigger rice bowl). IRRI and the Global Rice Science Partnership (GRiSP) have a clear view on what it will take to fill this bigger rice bowl that will take another 150 million people out of extreme poverty by 2035, only 20 years from now.
Part of the blueprint, with marginal farmers in mind, involves the transformation of IRRI's rice breeding pipeline into a demand-driven, lean, mean machine. This new breeding factory, is being targeted to respond directly to farmers' needs.
As part of this process, it is very important to know more about the farmers themselves, particularly women farmers. What is their role on a rice farm? How much is their input in producing the world's staple food? IRRI's Sam Mohanty looks at these issues.
As the International Year of Family Farming winds down, we look at family farms in the remote areas of the Cordillera Mountain region of the northern Philippines. Until just recently, these farms were dying, with family members dispersing to lowland cities to look for livelihood. Then, two determined women, Mary Hensley and Vicky Garcia, arrived on the scene to make the connection between the indigenous heirloom rice produced in the region and consumers around the world. IRRI is now working with them to help farm families conserve and sustainably produce their heirloom rice and make it part of the mainstream market (see Women who moved mountains).
Restaurateur Amy Besa is helping to make the world aware of the Cordillera's heirloom rice—one plate at a time—at her Purple Yam restaurants in New York and Manila. The sous chef at the Manila branch uses Ominio, a tasty heirloom rice, in a popular recipe in our What's Cooking? installment. And what might you read while waiting for your heirloom rice dish to be served? How about a fable about the origin of Tinawon, a beloved heirloom rice of the Philippines' Ifugao tribe?
In Africa, similar work is being done to help farmers add value to their rice and eventually raise their income. For the first time, researchers are looking at improving not just the quantity of Africa's locally produced rice.
Mexico, too, is on the verge of a second rice revolution as it seeks to revitalize its rice industry (see Rice revival in the land of maize). Also in Latin America, scientists at the International Center for Tropical Agriculture are wielding big data tools to help farmers deal with changing weather patterns through better management of crops (see Harnessing big data for climate change).
Speaking of climate change, IRRI's geographic information systems team and partners are using data showing that rice farmers in India and China are very dynamic and can adapt to changing economic, technological, and climatic factors (see Rice on the move).
Indeed, we need movers and shakers in rice research and development to help farming families increase their yield and income. In fact, five innovative ones (IRRI's outstanding alumni) are being recognized at the upcoming 4th International Rice Congress (IRC2014) being held in Bangkok, 27 October-1 November.
Held under the patronage of the Royal Government of Thailand, IRC2014 is being organized by IRRI and Kenes MP Asia Pte. Ltd. With a theme of Rice for the World, this "Olympics of Rice Science" is bringing together about 2,000 top rice scientists and researchers from all over the world to present and discuss the latest breakthroughs in R&D on rice, striving to make a difference in the vital issues of poverty and hunger alleviation and stewardship of the environment. Read about the six renowned IRC plenary speakers and their important topics.
Happy reading!
Lanie Reyes
Rice Today managing editor