In Asia, women are an indispensable part of rice farming. Their roles are somewhat dictated by farming practices and sociocultural norms across countries. In general, women are primarily involved in establishing the crop, harvesting, and doing postharvesting activities while men take the lead in preparing the land, managing the crop, operating farm machines, and marketing (Table).
In Bangladesh, however, women's involvement in rice farming is minimal. It is limited to postharvest activities mainly because of their religious and cultural practices. Women traditionally are in charge of household affairs and are discouraged from working outside their homes.
On average, Asian women contribute nearly half of the total labor input into rice production ranging from 17% in the Philippines to 74% in the Indian state of Uttar Pradesh (Fig. 1).
More importantly, the traditional role of women in rice farming is rapidly changing. They are going from farm laborers to farm managers and owners because of the outmigration of male farmers to urban areas in search of better economic opportunities. This is reflected in the rise of women farm landholders across Asia, with striking increases in Nepal and Thailand in the past two decades.
In Nepal, the share of agricultural holdings by women made an 11-point jump from 8 to 19% between 2001 and 2011. Similarly, Thailand witnessed a big jump in women's agricultural holdings from 15 to 27% between 1993 and 2003. Steady, but small increases in agricultural holdings by women have been recorded in both Bangladesh and India in the past two decades with an increase from 3.5 to 4.6% between 1996 and 2006 in Bangladesh, and an increase from 10 to 13% between 1995 and 2010 in India.
At the same time, in many Southeast Asian countries such as Thailand, Vietnam, and the Philippines, the labor input of women into rice farming has been on the decline because of the outmigration of rural women and mechanization of rice farming. In the past two decades, their share in rice farm labor in these countries has decreased by at least 10 percentage points. This declining trend has not been witnessed in South Asia; but, it will not be long before this trend will be evident in the region.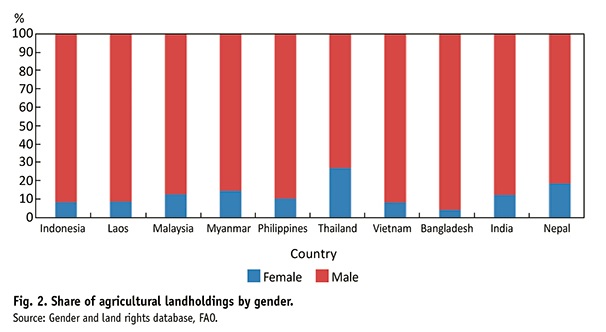 Despite many positive trends in rice farming, the share of agricultural holdings by women is still very low at less than 20% for most Asian rice economies, except for Thailand (Fig. 2). In many other Southeast Asian countries, such as Vietnam, Indonesia, Malaysia, Laos, and the Philippines, the share of women farm landholders is surprisingly low. At the bottom of the pack is Bangladesh where women account for only 5% of agricultural holdings.
The role of women in rice farming in Asia will continue to change as the out migration of males accelerates in the future. This warrants crafting policies and programs that will strengthen women's access to resources and services. The providers of rice technologies, including equipment and machinery, need to be sensitized to women's needs.
_________________________________________
Dr. Mohanty is the head of the Social Sciences Division (SSD) and program leader (targeting and policy) at the International Rice Research Institute (IRRI). Dr. Bhandari, who is based in the IRRI Bangladesh Office, is an agricultural economist in SSD.