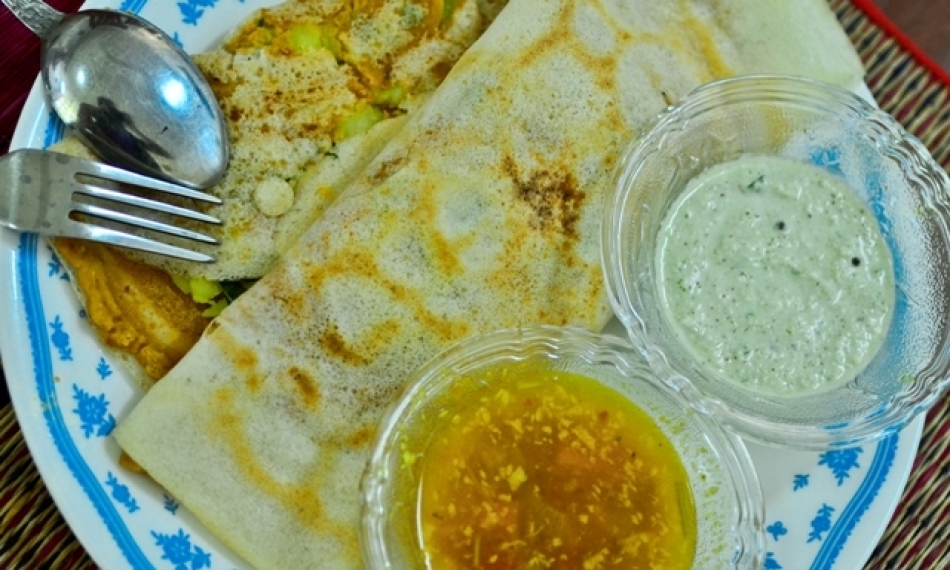 Masala dosa is a traditional southern Indian dish that has become popular all over India.The batter for this recipe has rice and black gram beans, making it rich in carbohydrates and protein. Since it is prepared with minimal oil, this makes it an even healthier dish. It can be savored as part of any meal of the day or as a quick snack. Masala dosa is rich in flavor and is especially enjoyed when served with coconut chutney or sambar, a popular vegetable stew, in southern India. Its broth is basically made with tamarind and pigeon peas.
Dosa batter

Ingredients
1 1/2 cups rice
1/2 cup skinless black gram beans
1/2 teaspoon fenugreek seeds (optional)
Salt to taste
Directions
Soak in separate containers the rice, black gram beans, and fenugreek seeds overnight.
Pour out some of the water from the soaked rice and grind the rest into a thick paste. Set aside.
Grind the soaked black gram beans and fenugreek seeds together.
Add the rice paste to the mixture of black gram beans and fenugreek seeds. Add some salt. Mix these ingredients together.
Let this mixed batter ferment for 6–7 hours.
Then add salt after fermentation.
Masala chutney
Ingredients

1/2 teaspoon ginger
4–5 cloves garlic
4 red chilies soaked in warm water for 4 hours
1 teaspoon cumin powder
1/4 cup roasted Bengal gram (or roasted peanuts) soaked for 4 hours to make soft
1 tablespoon tomato ketchup (optional)
2 tablespoons lime juice
Salt to taste
Directions
Grind ginger, garlic, dry red chili, and a little bit of tomato ketchup.
Make this a medium-thick paste by adding water little by little.
Put in the lime juice and add salt to taste.
Then add some water and grind all this into a paste.
Potato stuffing
Ingredients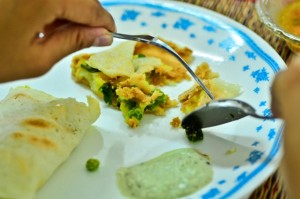 400 grams (or 2 big) half-mashed potatoes (boiled and peeled)
1 medium-sized chopped onion
1/2 cup peas
2 tablespoons oil
1 teaspoon mustard seeds
1/2 teaspoon skinless black gram bean
1/2 teaspoon Bengal gram
1 1/2 teaspoons grated ginger2 to 3 green chilies
1 dry red chili
2 stems of curry leaves
1/4 teaspoon turmeric powder
1/4 teaspoon red chili powder
1/4 teaspoon dry mango powder (or lime juice)
2 stems of coriander leaves, chopped
Salt to taste (3/4 teaspoon)
Directions
Heat the oil in a pan and put in the mustard seeds.
When the seeds crackle, add the black gram beans and Bengal gram, and sauté on medium heat for about 30 seconds.
Add the green chilies, dry red chili, curry leaves, and chopped onion. Then sauté on medium heat for about 3 minutes and stir occasionally.
Mix in the half-mashed potatoes, peas, turmeric powder, and dry mango powder (or lemon juice), and salt to taste.
Cook on medium heat for about 2 minutes while stirring from time to time.
Add the chopped coriander leaves, and cook on medium heat for about 1 minute.
Set aside to cool.
Directions for preparing the dosa
Once the batter has been fermented, heck its consistency—if too thick, add some water (make sure the batter is not too thick or too thin).
Heat a nonstick pan and sprinkle a little water on it (this should make it sizzle immediately).
Then wipe the pan with a cold, damp cloth (to make the batter spread better later).
Before the pan gets hot again, quickly pour 1 ladlefull of batter into the pan and spread it in a circular motion with the ladle to make a thin dosa.
Heat the pan a bit more to make the dosa crispier.
Smear 1 teaspoon of oil on the edges of the dosa.
Spread the masala chutney evenly over the dosa.
Then put some of the potato stuffing on the dosa.
Cook till the dosa turns golden brown.
Fold it over and press it lightly using a spatula to make a flat roll.
Repeat these steps to finish off the rest of the batter to make more masala-filled dosas.
Serve with coconut chutney or sambar.
_________________________________________
Sunita Jena is starting to learn and appreciate the art of cooking before she gets busy with medical school in the U.S. next year.
Mrs. Indira Jena learned most of her cooking skills from her mother, too, and satisfies her curiosity about dishes of other cultures by watching cooking documentaries whenever she can. She loves cooking Indian dishes for her children and husband, Dr. K.K. Jena, IRRI plant breeder.