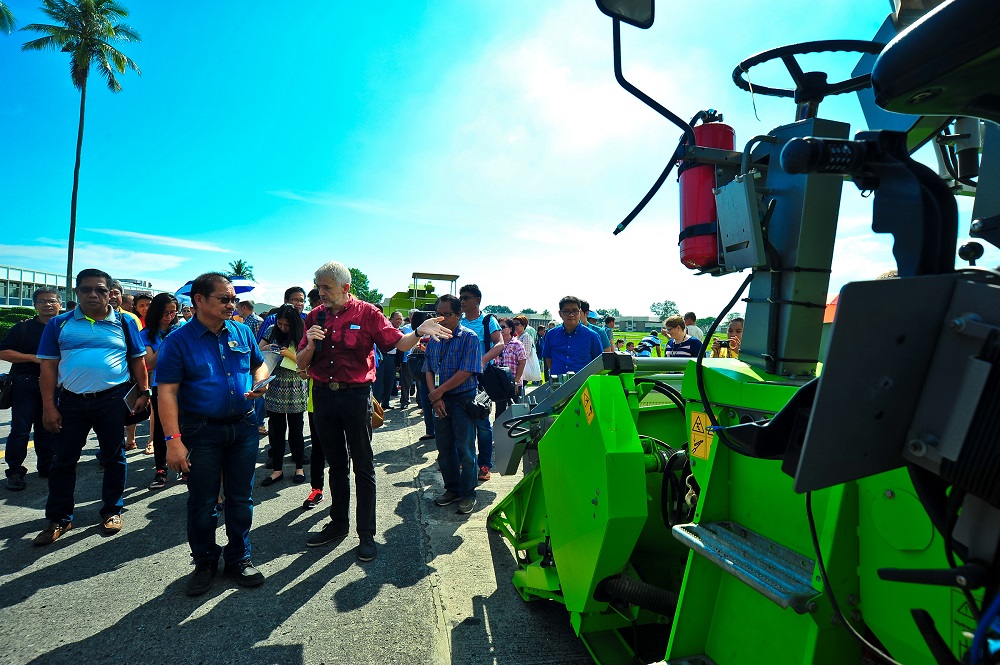 During his visit to IRRI, Secretary Piñol was interested in bringing advances in rice production developed through IRRI's research to the farmers "so we can focus on food production and poverty alleviation," which is a cornerstone of President Rodrigo Duterte's administration. 
"Technologies are useless unless they are in the hands of farmers," said Secretary Piñol."I can assure our partners in IRRI that your work will not go to waste," said Secretary Piñol. "I would like to make sure that each advancement in technology would be translated into a better life for the Filipino farmer."
Climate-proof rice
Recognizing the threats of La Niña and the recent El Niño, Secretary Piñol stressed the importance of establishing food centers in critical areas of the country with enough supplies to last at least six months. But to do so, farmers need to be equipped with rice varieties that can withstand flooding, drought, and salinity, among other negative effects brought about by climate change.
The NextGen project under the DA-IRRI collaboration aims to breed varieties that not only yield well, but also can adapt to those stresses. Breeding lines are tested in different locations in the country before being officially released as commercial varieties.
Moreover, the farmers are involved in varietal selection, thus giving them a say in determining the cooking quality and other characteristics of rice that are important to them.
More information on climate change-ready rice
Water management
Secretary Piñol noted that the country squanders many of its resources, the most important of which is water. "We are a country with six months of rains, typhoons, and flooding; then there are three months of dry spell when we cry for water," he said. "We need to come up with a good plan to conserve water. We need a program on how to preserve La Niña water for the coming season."
At IRRI, the secretary took notice of a simple perforated plastic pipe that can be used by farmers to conserve the use of water in growing their crops. The contraption is used under the best management practice developed by IRRI water scientists known as alternate wetting and drying (AWD). It can reduce water use in producing rice by as much as 35%. The AWD technology can be used for larger irrigation schemes but it is also just as useful for rice farmers who rely on pump irrigation. AWD use means greater farming incentives as lower water consumption translates right away into savings on fuel cost and higher net income for farmers.
More information on water management in rice
Crop management
Next to water, crop management— especially for fertilizer—is also critical in producing a good rice harvest. In July, Secretary Piñol sought more than USD 12 billion (PHP 62 billion) to fund the improvement of fertilizer, seeds, and crop insurance for four coming planting seasons stretching from September 2016 to April 2017.
In the current DA-IRRI collaboration, rice farmers are not only able to use fertilizers more efficiently, but also can manage their crops better through site-specific recommendations using the Rice Crop Manager (RCM). The RCM can give farmers specific advice on what type of fertilizer to apply, when to apply it, and how much of it to apply at each growth stage of the crop. In this way, farmers have better chances of getting higher yields.
Go to the Rice Crop Manager (Philippines)
Satellite technology
Another DA-IRRI collaboration, the Philippine Rice Information System (PRISM), monitors pest and disease outbreaks and damages as well as flood- or drought-damaged fields through a combination of geographic information systems, remote sensing, and appropriate crop modeling tools. PRISM provides potential yield estimates based on crop health assessments or the impact of adverse climatic conditions such as flooding or drought on rice.
Also, PRISM can produce maps of rice growing areas—along with estimated planting dates—often to a degree of reliability supported by official statistics at the municipal level. The images are likewise validated by DA regional officers, who visit the fields to collect data and send the information to a centralized database.
Grain storage
Often, seed producers complain about inadequate storage facilities to ensure that rice seeds can last up to about a year, Secretary Piñol noted.
Engineer Martin Gummert, head of the postharvest unit at IRRI, showed the secretary several postharvest technologies during his visit (photo). These included the Superbag, a durable plastic container designed to keep seeds dry and protected from insects, rats, and molds.
Mr. Gummert also demonstrated the solar bubble dryer (SBD) that dries grains inside a plastic dome to protect them from rain. The SBD can dry grains to a moisture level of 10–13%, depending on the prevailing weather conditions. It can also run on solar power. Other technologies that were shown included a transplanter, a drum seeder for sowing pregerminated rice, a combine harvester, among others, all intended to reduce the labor requirements of rice production.
Foot soldiers of technologies
Confronted by multiple challenges, Secretary Piñol sees the crucial role that extension must play in making food ultimately more available and affordable for most Filipinos. The IPaD project focuses on building the next generation of Filipino extension officers. The DA plans to expand the project to support increasing rice production to ensure rice self-sufficiency. Under the IPaD project, agricultural extension officers learn both the technology side and the business side of rice production.
"We don't just recommend that farmers plant rice from A to Z, but that they also make money while doing it," said Director Edmund Sana of the National Rice Program.