A proposed standard for determining the reliability of genetic markers makes modern integrated breeding approaches more consistent in designing better rice varieties.
.
Smallholder farmers face an increasingly complex rice production system because of extreme events like drought, flood, or rising sea levels caused by climate change. To protect farmers from the effects of climate change and help them adapt to commercializing their production systems, the International Rice Research Institute (IRRI) explores innovative approaches in breeding programs to efficiently develop new improved varieties that produce high yield while surviving in harsh environments.
Since the 1990s, plant breeders have been using a method known as marker-assisted selection (MAS) to identify specific and usually rare genes for desirable traits such as disease resistance, grain quality, and flood tolerance. Breeders use naturally occurring differences in the DNA sitting next to these genes (known as SNPs, or Single Nucleotide Polymorphisms) as genetic markers to increase the accuracy and speed of the breeding process. However, in spite of its benefits, effectively using MAS remains a challenge in many breeding programs around the world.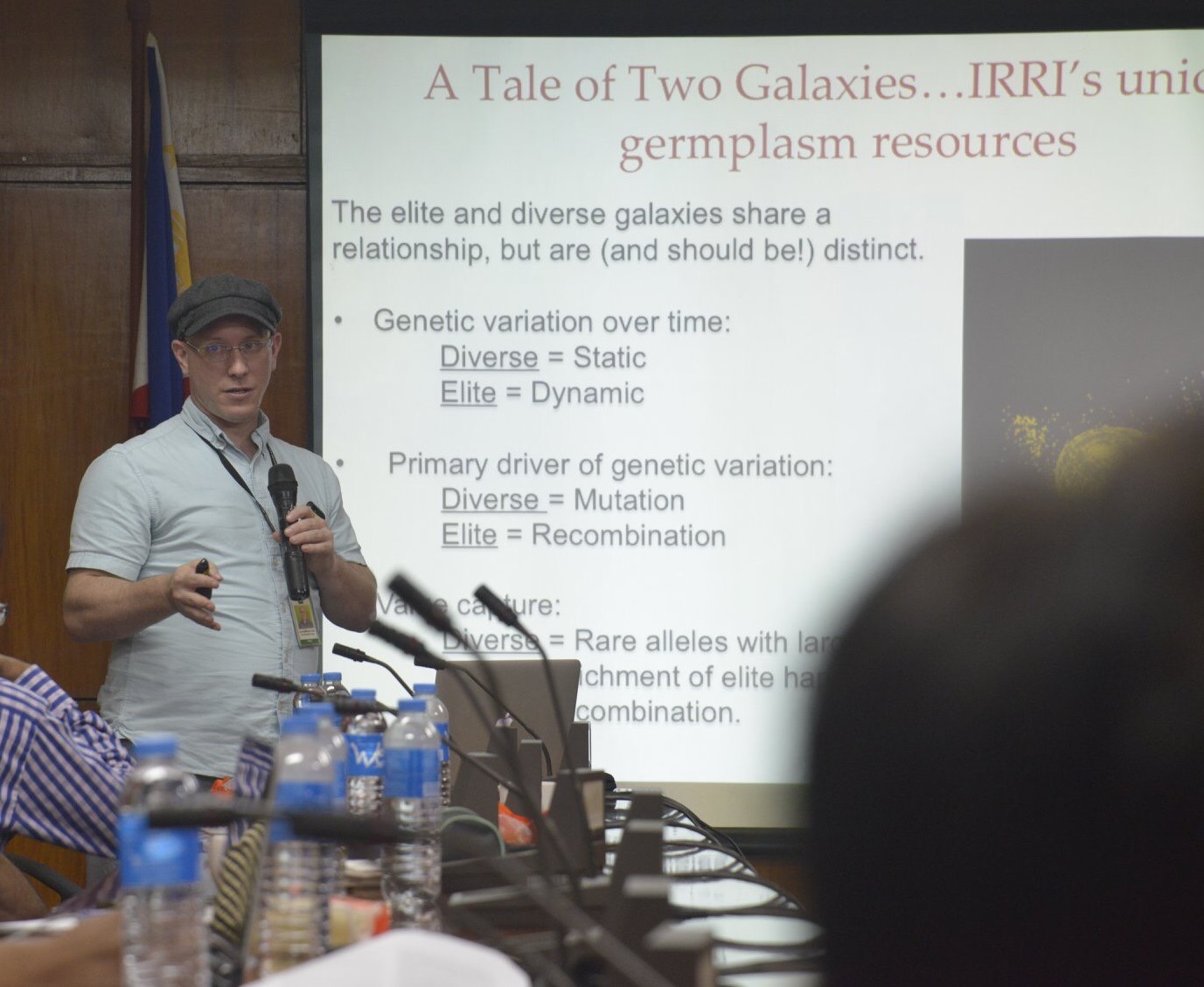 "The unintentional use of ineffective markers has resulted in variable success with MAS," said IRRI breeder Joshua Cobb (photo above).  "This uncertainty has led many breeders to have lower confidence in MAS and has made it difficult for them to justify the expense of deploying the technology at scale."
No longer a hit or miss
Recognizing this problem, IRRI developed criteria for evaluating the accuracy of molecular markers to improve MAS efficiency and reliability.
"Would you ever buy a new phone based on the picture on the box?" says John Damien Platten, a scientist at IRRI. "Buying without knowing whether it is genuine or not would be risky and can have expensive consequences. Unreliable markers are a weak point in the use of quantitative trait loci (QTLs) since it results in unreliable outcomes."
This is what breeders face when using MAS.
.
Drs. Platten, Cobb, and Rochelle Zantu propose five core metrics to fully describe the accuracy and performance of molecular markers used in MAS. In Criteria for evaluating molecular markers: Comprehensive quality metrics to improve marker-assisted selection, a paper published early this year in PLOS ONE, the IRRI researchers found that markers that score well on the metrics have far better reliability and improve the dependability of MAS as a breeding tool.
"Through the metrics, breeders will have a comprehensive and quantitative measure of the ability of a marker to classify if the germplasm has the needed gene," says Dr. Platten.
Consequently, breeders can have greater confidence in using the marker in their breeding programs.
"Integrating MAS with more recent advances in molecular breeding technology, such as genomic selection, can help accelerate the delivery of high-value varieties to farmers," says Dr. Cobb. Genomic selection is a type of predictive breeding that takes advantage of a genetic fingerprint to estimate the yield of a breeding line before evaluating it in the field.
"These metrics give us the language we need to accomplish that more confidently." Dr. Cobb adds.
.
Improving public sector breeding programs
The metrics developed by IRRI are applicable across different marker types and platforms.
"This opens up opportunities not just for rice but for other crops as well," Dr. Platten says. "Using these metrics in evaluating markers can pave the way for breeders to design better varieties through high-precision breeding programs."
This translates to more efficient breeding programs that are responsive to the pressing needs of smallholder farmers around the globe.
________________
Mr. Barradas is a communication specialist at IRRI.