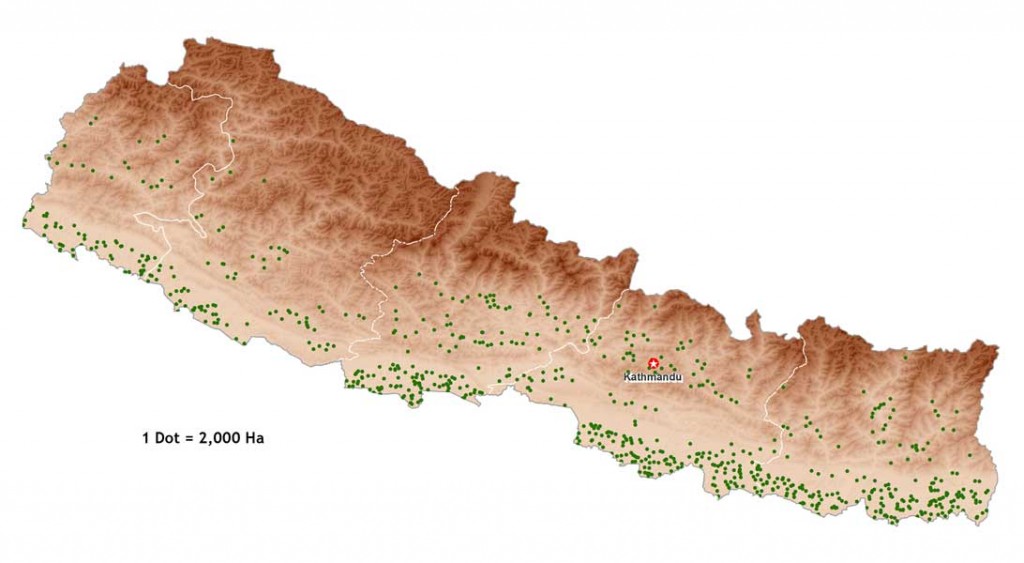 Rice is important to the people and the economy of Nepal, where agriculture employs around 80% of the population and contributes 37% to the country's gross domestic product. Rice is grown on more than 1.5 million hectares, producing a total of about 5 million tons and an average yield of 3.3 tons per hectare in 2011-12.
IRRI-Nepal partnership
The International Rice Research Institute (IRRI) started working with Nepal in 1985. The first collaboration covered rice varietal improvement for rainfed lowland and irrigated fields, plant pathology, entomology, soil science, agronomy, and farming systems. It also involved education and training of Nepalese scientists and technology transfer.
More activities took place after Director General Purushottam P. Gorkhaly of the country's Department of Agriculture and Livestock Services (DoALS) visited IRRI in 1987. IRRI and DoALS carried out rice varietal improvement and related research activities in 1999. The country had also been involved in the activities of the Asian Rice Biotechnology Network and the International Network for Genetic Evaluation of Rice, both based at IRRI headquarters.
Also in 1999, the Nepal Agricultural Research Council (NARC) and IRRI strengthened their partnership for rice improvement in the country. In 2001, NARC and IRRI held a dialogue to develop a project outline to meet Nepal's rice research and development requirements based on farmers' needs and to identify the roles of NARC, IRRI, and other stakeholders in addressing the priority needs.
In 2005, the Nepal-IRRI Country Office was established and the Nepal Rice Knowledge Bank (NRKB) was launched on the NARC website, making 21 fact sheets on rice technologies accessible to extension workers and farmers. In relation to this, three national and four regional training activities for agricultural scientists, extension officers, and NGO personnel were conducted on using the NRKB and developing fact sheets.
From 1980 to 2008, Nepal and IRRI partnered on some projects as part of the Rice-Wheat Consortium for the Indo-Gangetic Plains. These projects became a platform for a range of on-farm and on-station system research supported by the Asian Development Bank (ADB), Department for International Development, the International Fund for Agricultural Development (IFAD), the U.S. Agency for International Development, World Bank, and the Bill & Melinda Gates Foundation, and evolved into the Cereal Systems Initiative for South Asia (CSISA) project in 2009.
From 2005 to 2008, NARC and IRRI completed three collaborative projects funded by ADB and IFAD. The latter supported a project on the management of marginal rainfed uplands focusing on upland and lowland rice. Through this project, community seed production became institutionalized.
ADB supported a project on water-saving technologies, cropping approaches, and other related technologies such as zero tillage. This resulted in a 30−40% reduction in irrigation water use. In addition, ADB supported work on integrated crop management in rice-wheat systems.
The IRRI-Nepal partnership boasts of key achievements such as improved crop management and productivity, more rice information sources, better rice varieties, and capacity building.
Better ways to produce rice
Nepalese farmers have benefited from reduced labor and costs, less seedling breakage, and increased yield through various modern technologies introduced to them. Some resource-conserving technologies in ricewheat systems such as zero tillage have advanced wheat sowing by 2–4 weeks, allowing farmers to save 64% of the cost in land preparation and seeding.
Laser land leveling, direct seeding, unpuddled transplanting of rice, and reduced tillage on wheat, maize, lentil, and winter maize have all been adopted by farmers to improve their management practices. Residue management, the use of a leaf color chart for nitrogen management, weed management, rotation with other crops, and other practices have also contributed to higher overall crop productivity.
Seed growers also received training on quality seed production and establishing linkages with resource centers as sources of quality seeds and market information.
Better rice varieties
Many IRRI-bred rice varieties for drought and flood tolerance—or climate-smart rice—were successfully tested in Nepal. As a result, three drought-tolerant rice varieties, Sukha dhan 1 (IR71374-46-1-1), Sukha dhan 2 (IR71374 -54-1-1), and Sukha dhan 3 (IR71374-70-1-1), were released in 2011. Similarly, flood-tolerant Swarna- Sub1 and Sambha Mahsuri-Sub1 were also released to help farmers in the southern Terai. To date, NARC has released 69 rice varieties for both irrigated and rainfed environments, with IRRI genotypes contributing more than 60% of the varieties released in Nepal.
Capacity building
A total of 303 Nepalese scholars completed their studies and short training courses from 1966 to 2013. Of this number, 51 completed their doctoral degree, 47 finished their master's degree, 10 were on-the-job trainees, and 195 attended various short courses at IRRI.
Current research work
Developing a seed business model is part of the project in Nepal, in which key seed specialists, government officials, private companies, community groups or cooperatives, and others became involved. The target stakeholders of the project are women, farmers, extension staff, and ethnic minority groups. Another IRRI project aims to enhance the rural poor's access to improved agricultural technologies, especially in stress-prone areas.
In Nepal, the focus is on improving the country's upland rice systems and drought-prone lowlands through participatory varietal selection activities with farmers and introducing improved crop management options. The latter include modern cultivation practices for rice and maize, integrated disease and pest management, resource-conserving technologies, effective use of compost, soil conservation practices, and principles and importance of community-based organizations, among others. The project also includes a seed production component for upland rice farmers and the establishment of community seed banks.
In 2012, the second phase of the CSISA project started in the mid- and far-western regions of Nepal where food deficits were common. CSISA verified different technologies for rice, maize, and lentil production through demonstrations and minikit distribution of seed in those two regions. CSISA also emphasizes the dissemination of technologies and capacity building of extension officers, Department of Agriculture technicians, NARC scientists, and farmers. Moreover, the project focuses on promoting resourceconserving technologies for rice, maize, and lentil.
Breeding hardy rice varieties
IRRI is working with the Regional Agricultural Research Station in Nepal to evaluate promising drought-tolerant rice varieties and to find specific genes that help improve yield under drought. IRRI is also working with many partners to develop new hybrid rice varieties, and, in another project, is generating widely accessible databases on crop improvement for tracking the diffusion of rice varieties. The Bill & Melinda Gates Foundation also supports IRRI in a project that develops climate-smart rice varieties and disseminates them to areas prone to drought and flood.
Many seed companies, cooperatives, and community-based seed producer groups are multiplying seeds of climate-smart rice varieties and making those seeds available locally. Seed companies, cooperatives, agriculture and veterinary service providers, seed producer groups, and rice millers are developing seed networking mechanisms among themselves by organizing workshops and meetings. The Nepal government has taken ownership of this project because of its positive impact in farmers' fields.
What lies ahead
Nepal and IRRI will continue to work together to develop better rice production technologies for both rainfed and irrigated ecosystems, including varietal improvement and best management practices. IRRI will work with NARC in strengthening capacity in hybrid rice, postharvest technologies, socioeconomic and policy research, the rice seed sector, and capacity building of scientists through training activities.
The collaborative program will be pursued under the six themes of the Global Rice Science Partnership (GRiSP), the CGIAR Research Program on Rice. IRRI began linking the dissemination of rice technologies with other bilateral projects related to climate change and food security in the country. And, this work will continue in the future for the wider adoption of climate-smart rice as well as discussions on fund raising on rice research and development for Nepal.
_________________________________________
Ms. Paula Bianca Ferrer is a science communication specialist at IRRI.